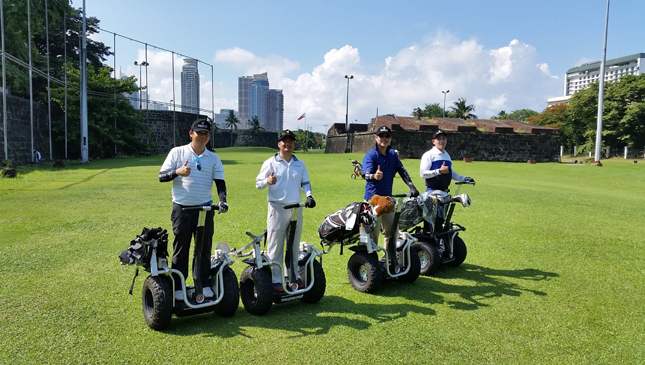 Let me begin by stating I do not play golf. I never have, and doubt I ever will--I just never learned to appreciate the sport. One of the things I do appreciate, however, is a good vehicle. If it looks good, drives good and feels good, then I'm down with it. Segway Philippines let me take a modified Segway i2 SE for a spin around the Club Intramuros Golf Course, and while I can't say that it left me in awe, I have to admit I was pretty impressed.
Learning to operate and maneuver the Segway was surprisingly easy. The trick to mastering the Segway is a good sense of balance and a calm head. It's simple, really: You lean forward, you move forward; you lean back, you go in reverse. It took me and a few golfers less than 15 minutes to get the hang of it, although I suppose it depends on the rider.
The Segway unit was modified for golf purposes, with an attached golf bag carrier and all-terrain tires for traversing through the rougher patches of the course. The golf bag carrier was a great idea, especially from a caddy's perspective. I can only assume that not having to lug around dozens of pounds of golf equipment is a huge weight off their shoulders, and the all-terrain tires performed well on any surface I tried, save for a few bumps here and there. I do wish that they had found a way to cover the Segway's passengers from the elements, especially the heat of the sun--though handling the unit one-handed while holding an umbrella proved no problem at all.
Continue reading below ↓
Recommended Videos
What really impressed me about the unit was its speed. Honestly, when I first saw the thing I was thinking: "I can outrun that." I couldn't have been more wrong. The i2 SE is capable of reaching a top speed of 20kph, and while that may not sound like much, remember that golfers sometimes walk the entire length of the course. If they're not walking, they're waiting for other golfers to finish a hole so they can take their golf cart onto the next one. I actually talked to some golfers, and according to them, the Segway might actually slash a good chunk out of the time it takes to finish a course.
The only thing that bothered me about the Segway was the way it felt running at top speed. Don't get me wrong: Performance-wise, I had no problems driving the unit at 20kph. It just felt like I could lose control over the slightest bump. There were times I felt like the unit was too light, and maybe this is something Segway can improve upon. I don't think many golfers will be pushing their units to the limit though, so it shouldn't pose a problem for the most part.
So, if the Segway i2 SE is so great, what could potentially keep golfers from buying one? Well, the only answer I can come up with is the enormous price tag. It costs nearly as much as some brand-new cars at P540,000. That's a pretty big investment for something that runs on two wheels and can't push past 20kph.
Overall, I'd have to say that while this Segway is a very impressive personal-mobility vehicle in terms of technology and innovation, you won't be seeing many of these anytime soon due to its prohibitive pricing. While it does have its uses (for airports, big businesses and security requirements), there just isn't enough to it to justify buying one for personal use. Hopefully, more golf courses will offer a Segway package.
Photo by Drei Laurel