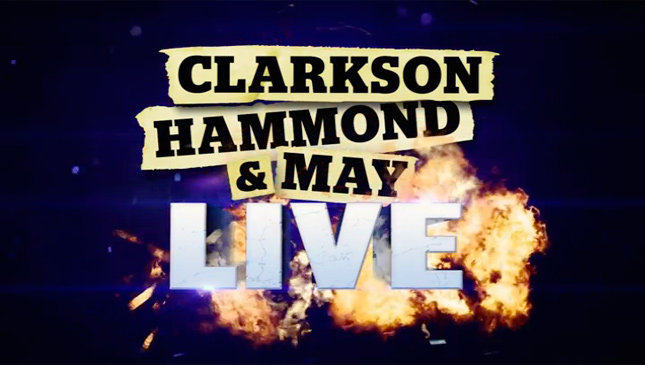 Unless you just came back from an interstellar vacation in another galaxy, you surely know that Jeremy Clarkson has been axed from Top Gear after supposedly verbally and physically assaulting the TV show's producer. Obviously, Top Gear's millions of fans revolted--sort of--and kept badgering the BBC to reinstate their favorite automotive media personality. To no avail (at least so far).
Now, while Top Gear is alive and well (the BBC is in the process of looking for Clarkson's replacement), Clarkson apparently still has some contractual obligations connected with the brand. One of them is his contract with the Top Gear Live world tour, which he also used to do with erstwhile cohosts Richard Hammond and James May. The problem stems from the fact that tickets had already been sold for these live events, and the organizers cannot just cancel the tour all because Clarkson had a violent fit.
And so the show must go on. The trio will fulfill their world-tour contract minus the Top Gear branding. The new name for the tour? Yep, it's Clarkson, Hammond & May Live. The renamed tour even has a hashtag: #BackOnTheRoad.
Is this a sign of things to come? Will they ever reunite under the Top Gear banner? Who knows? In the meantime, those who really miss these three can watch them live at the following venues and on the following dates:
* Belfast (Northern Ireland), Odyssey Arena, May 22-24
* Sheffield (UK), Motorpoint Arena, June 5-7
* Johannesburg (South Africa), TicketPro Dome, June 12-14
* Stavanger (Norway), Sørmarka Arena, June 19-21
* Australia, venue to be confirmed, July 18-19 and 25-26
* Warsaw (Poland), National Stadium, October 24
* London (UK), O2 Arena, November 28-29
If you have the means to attend any one of these shows, you may visit the tour's website here for ticket information.
Check out these teaser videos and tell us what certain automotive TV show they remind you of.
If you're viewing this on a mobile device and can't see the video, please click here.
<>
If you're viewing this on a mobile device and can't see the video, please click here.
<>