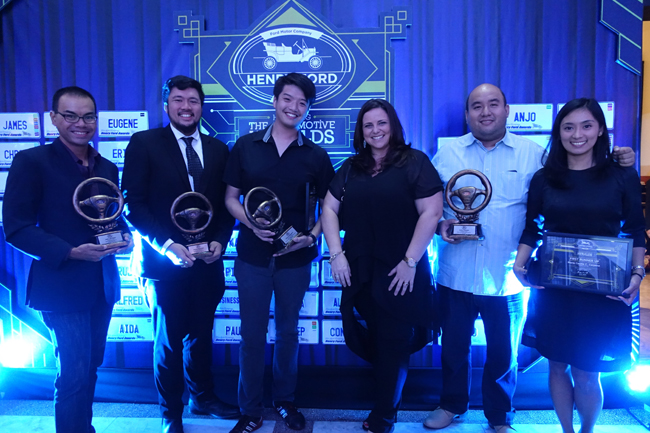 The Top Gear name rang throughout the Enderun Colleges event hall repeatedly as our writers and photographers were called to accept numerous nominations and awards last night at the 14th annual Henry Ford Awards, or HFA. It is the country's only regular award-giving body that recognizes the work of journalists who cover the motoring beat.
With over 200 entries submitted for 2014--almost double the amount the previous year--the competition was harder than ever. But we still prevailed by winning four awards, the most by any publication, and basically a third of the 12 awards that were handed out.
The awards won by Top Gear Philippines were Best Automotive Column ("10 tips for secondhand-car buyers" by Andy Leuterio); Best Automotive Online Story ("5 things I learned while watching my father behind the wheel" by Dinzo Tabamo); Best Green and Smart Technology Story ("The sound of silence" by Carlo Chungunco, published in the magazine's August 2014 issue); and Best Published Automotive Photograph ("We built this City" by Alfred Mendoza, published in the magazine's May 2014 issue).
Top Gear also won three runner-up plaques: one by Dinzo Tabamo for the Go Further Category, one by JV Colayco for the Automotive Print Feature Category, and one by Tracy Carpena for the Green and Smart Technology Category.
Continue reading below ↓
Recommended Videos
"Through the HFA, Ford is strengthening its commitment to honor and give due recognition to both automotive and lifestyle journalists who have displayed unparalleled excellence in automotive journalism," said Joseph Ayllon, Ford Philippines assistant vice president for communications. "With their stories, these journalists have influenced consumers in their decisions and have contributed to the growing industry."
Here is the complete list of winners in the 2014 Henry Ford Awards:
General categories
Automotive Print Story - James Deakin, Philippine Star
Automotive Column - Andy Leuterio, Top Gear Philippines
Automotive Online Story - Dinzo Tabamo, Top Gear Philippines
Automotive Blog - James Deakin, Jamesdeakin.ph
Green and Smart Technology Story - Carlo Chungunco, Top Gear Philippines
Automotive Lifestyle Story - Kristine Fonacier, Grid
Automotive Video Feature - Tony Velasquez, Future Perfect
Best Published Photograph - Alfred Mendoza, Top Gear Philippines
Special categories
Ford Automotive Story - Steven Yu, C!
Go Further Story - Ulysses Ang, Philippine Star
Ford Published Photograph - Eugene Araneta, Tessdrive.com
Best Broadsheet Motoring Section - The Manila Times