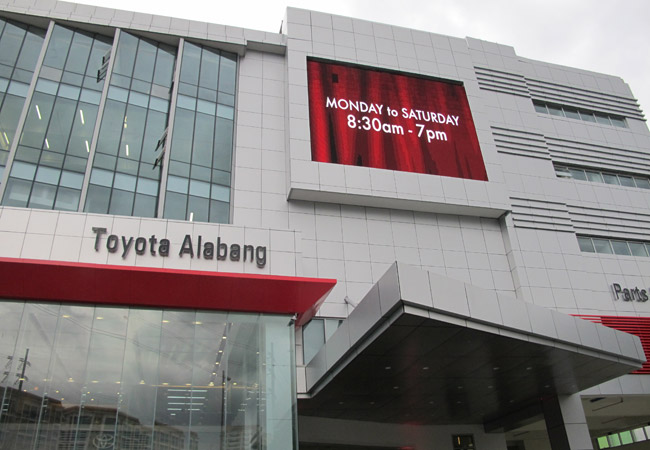 On September 15, 1989, Toyota Alabang opened its doors to customers south of Metro Manila. The owner, a simple but hard-working man named Cesar Lee, established the dealership with the help of his son Michael. Fast-forward 25 years and the company is stronger than ever, with the same father-and-son tandem running the show. More important, the dealership formally moved to a new, state-of-the-art facility on the occasion of its silver jubilee.
Toyota Alabang's new address? Alabang-Zapote Road corner Filinvest Avenue in Alabang, Muntinlupa. You won't miss the brand-new, seven-story building especially at night, when the structure's giant LED display serves as an entertaining billboard for passing motorists. This facility is said to have been constructed using LEED standards. LEED stands for Leadership in Energy and Environmental Design, a standard developed in the US for the design and construction of green or sustainable buildings.
"More than the huge structure that gives one a feeling of grandeur, Toyota Alabang sets itself apart from others with its technologically advanced implements," said Toyota Motor Philippines president Michinobu Sugata. "Everything that you see in this facility is energy-efficient and environment-friendly. Indeed, this facility is exceptional from the inside out."
The inauguration was a reunion of sorts for Toyota Motor Philippines' executives both past and present. Flying in just for the event were past Japanese presidents of TMP, as well as former TMP senior vice president (and now Toyota Motor Corporation executive) Vince Socco.
Continue reading below ↓
Recommended Videos
Those who cut the ceremonial ribbon included San Miguel Corporation president Ramon Ang, Davao City mayor Rodrigo Duterte, Senators Gringo Honasan and Nancy Binay (who played the role of dutiful daughter by delivering her father's speech), and TMP vice chairman Alfred Ty.
Toyota Alabang also used the occasion to honor and thank long-serving employees, some of whom had been with the company for two decades. Speaking of employees, Toyota Alabang boasts some of the finest workers in the local automotive industry. Its former sales manager, Danny Isla, is in fact the president of Lexus Manila today.
If you're from the south and in the market for a new Toyota, check out this new facility. Better yet, ask if you could meet the father-and-son team of Cesar and Michael Lee. You could learn a thing or two about the importance of hard work, dedication and customer service.
UPDATE as of May 8, 2018: We wrote about Toyota Motor Philippines' updated price list in response to the Tax Reform for Acceleration and Inclusion Act (TRAIN), as posted online by one of its dealers. The Japanese carmaker updated its website to make those prices officially official. If you want to see the new price list again, click here. Now, given the tricky nature of vehicle pricing, not all of Toyota's prices increased by the same margins. In fact, some of models even became cheaper. If you've been wondering how much you'll need to pay this year for a new Toyota, we'll keep you posted.
Photos by Vernon B. Sarne