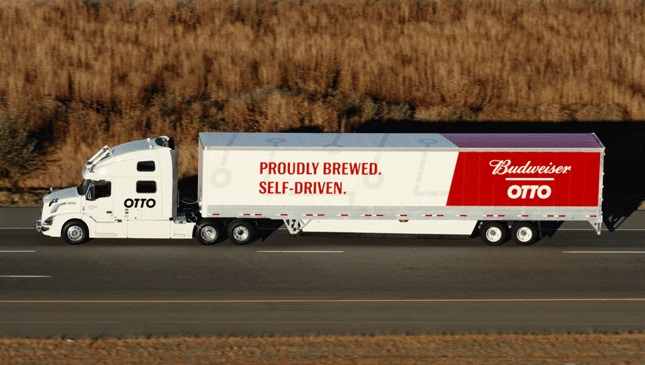 In the 1999 episode of The Simpsons entitled 'Maximum Homerdrive,' Homer and Bart take charge of a delivery truck after its driver dies from a steak-eating contest. Homer falls asleep at the wheel but the two survive, thanks to the autonomous driving system installed in the truck. They discover that the system is a well-kept secret that allows truckers to sleep while the truck drives all by itself. In 2016, Uber has successfully pioneered such a truck that would make Homer Simpson himself proud.
ADVERTISEMENT - CONTINUE READING BELOW ↓
According to a Reuters report, Otto, the self-driving truck subsidiary of Uber, has just delivered around 45,000 cans of Budweiser across 193km of highway in Colorado. The truck traveled at an average speed of 89kph for two hours with no one behind the wheel for most of the trip. The only time the driver took charge was to guide the truck on and off the highway ramp. The project was done in partnership with Budweiser parent company Anheuser-Busch, along with the support of the state of Colorado. The delivery is the world's first shipment via a self-driving truck.
The truck used cameras, radar, and lidar sensors to navigate the road, while adjusting its steering, braking, and acceleration accordingly. According to Otto, the technology will allow drivers to rest during long highway stretches while the vehicle continues to navigate on its own. As it improves the safety and decreases the costs of these trucks, Otto plans to partner with more businesses than can benefit from their use.
ADVERTISEMENT - CONTINUE READING BELOW ↓
Recommended Videos
With auto and tech companies inching closer and closer to a future run by autonomous cars, some experts believe that this technology would be better suited to long highway drives rather than busy city streets.
All we know is, we wouldn't mind having a self-driving truck deliver beer right to our office doorstep. Where do we sign up?