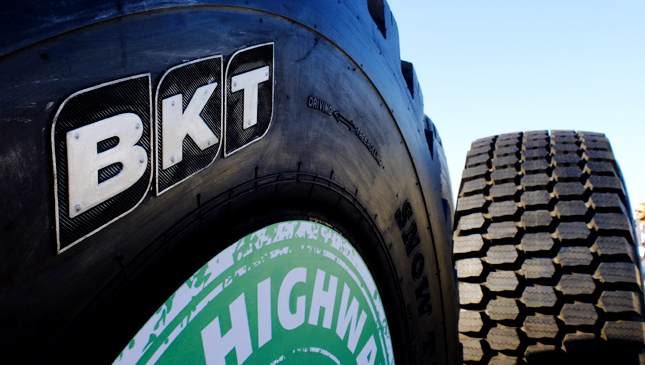 Philippine Airlines, Dole Philippines and Manila North Harbour Port...what do these three seemingly dissimilar companies and their respective services have in common? Three words: off-highway tires. These are the massive tires used by earth-movers and the like. They are sturdy, capable, versatile and vital in the everyday operation of these businesses, as well as dozens of others across the country.
Enter Balkrishna Industries Limited or BKT, one of the world's premier off-highway tire manufacturers. The Indian company has slowly made a name for itself in the tire industry over a 27-year span, making its products available in 130 countries across the globe, including ours. We were recently invited to a tour of its newest production plant in Bhuj, India, and nothing could have prepared us for what we saw.
The company's production plant in Bhuj, its fourth facility, is absolutely massive. In fact, it's one of the largest in Asia. It can produce up to 335 tons of product in a single day--everything from eight-inch go-kart tires to monstrous mining tires. The company is even responsible for the tires used on Monster Jam trucks--another showcase of BKT's wide array of products.
This operation sits on an enormous 312-acre land area that includes a standalone power plant, a water treatment center, testing grounds, living quarters for its workers, as well as a luxurious clubhouse employees call the "White House." The facility has so many amenities that calling it a self-sustained mini city wouldn't be a stretch at all. It is that big.
Continue reading below ↓
Recommended Videos
But perhaps the most interesting part of our trip was seeing BKT's manufacturing process up close. Of course, we knew that tires were more than just pieces of rubber, but we didn't fully understand just how much work went into each and every one that rolled off the production floor.
Raw materials such as rubber sourced from India, Thailand and Malaysia, are initially placed in the plant's storage area for tagging and labeling. After this, the different components are put together in the 16.8-acre mixing department, inside one of the 14 available mixers. A computer allows for precise amounts of each component to make its way into the mix, which is then sealed in what is called a "master bag." These are then formed into sheets for the next step in the process.
Samples are then sent to the plant laboratory for testing viscosity, strength, abrasion resistance and compound disparity, among other qualities. Sheets that pass laboratory testing are then cut and put together into a calendar roll and stored.
Now, the tire-building section is where the materials finally begin to take a round shape. Circular steel wire frames are coated and wrapped with sheet after sheet of rubber atop one another, and pressed via a roller. The product now looks like a tire. The body, or tire carcass, is now complete.
All that's left to do is to carve the carcass into specification, after which a multi-profile track machine applies the tread to the body. The nearly finished tires then enter a curing process, which can take up to 10 hours depending on tire size, and final quality inspection before they are stored with the rest of the finished products.
Unfortunately, we weren't permitted to bring out our cameras inside the plant to document the process. The company was very secretive in terms of the specifics of its production procedures, even withholding information such as the brands and the models of the machines inside the production area. But based on what we saw, there should be no reason to question the quality of BKT tires; this is without a doubt a world-class facility.
It took us several hours to complete the plant tour. We walked over a dozen kilometers in the process. To be honest, we were exhausted toward the end of the day. Still, the eight-hour flight and the endless walking were well worth it just to get a peek of what an operation of this scale actually entailed. So the next time you're enjoying Monster Jam, waiting for a flight, or even chowing down on a cup of rice (BKT has a huge stake in the agricultural tire sector), remember the huge tires that helped make all of this possible.
Photos by Drei Laurel