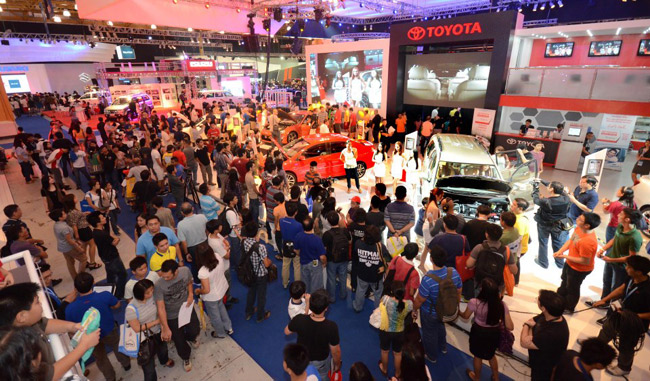 We've revealed the official logo and slogan for the 5th Philippine International Motor Show (PIMS) happening on September 18-21 at the World Trade Center in Pasay City. Today, we share with you the things you can expect to see at the biennial show organized by the Chamber of Automotive Manufacturers of the Philippines (CAMPI).
Titled "Progress in Motion: The Evolution of the Philippine Automotive Industry," PIMS 2014 will showcase 12 fully restored cars that represent the six decades of automotive trends in the country. Representing the 1950s and the 1960s are a Mercedes-Benz sedan and a Volkswagen Beetle. Visitors will also get to see a Toyota Sprinter from the '70s and a Mitsubishi Lancer Box-Type from the '80s. If you grew up in the '90s, you may take a trip down memory lane by checking out the Mazda Miata, the Kia Pride, the Honda Civic hatchback, the BMW 3-Series, the Peugeot 205 GT and the Isuzu Hi-Lander from that era. Representing the millennial decade are the Suzuki Swift and the Nissan 370Z.
ADVERTISEMENT - CONTINUE READING BELOW ↓
To be introduced for the first time at the show is an elaborate after-sales exhibit. Brands participating in the exhibition will showcase their latest products, services and exclusive offers. Packages on vehicle upgrades, repair services and genuine parts for various vehicle models (both old and new) will be available.
"Some new-car buyers miss out on the importance of after-sales support," said CAMPI president Rommel Gutierrez. "Through the after-sales exhibit, we would like to show our customers that we're more than about selling cars. Rather, our goal is to have an ongoing relationship with our customers, and to be able to provide them with the best after-sales support and experience."
The automotive brands participating in this year's Philippine International Motor Show are BAIC, BMW, Daewoo, Honda, Isuzu, JMC, Kia, Lexus, Mazda, Mercedes-Benz, Mitsubishi, Nissan, Peugeot, Suzuki, Toyota and Volkswagen.
ADVERTISEMENT - CONTINUE READING BELOW ↓
Recommended Videos