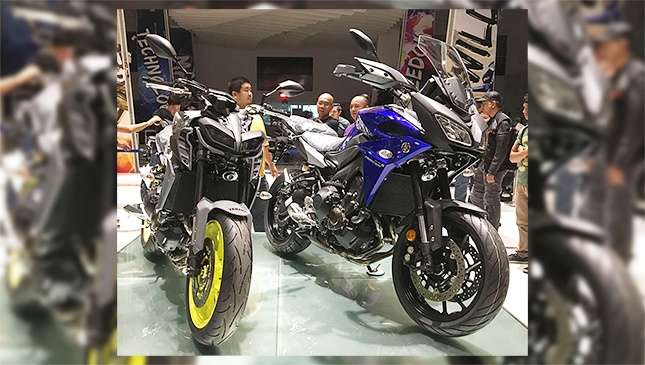 I went to what initially seemed like an ordinary bike night at the Motora Azul 1955 Café Lounge, beside the ever-so-popular Yamaha Y-Zone at Greenfield District in Mandaluyong City last Wednesday. A regular sight on bike nights is a long line of big motorcycles parked on the sidewalk beside Y-Zone's facade.
This was only the second time my antisocial, lone wolf self has been to a bike night at Y-Zone. That night Yamaha Philippines was unveiling two new motorcycle models!
So I parked my bike, placed my helmet on a rack near the glass door, and met some new people to talk endlessly about (yes, you guessed it!) motorcycles! While at the bikers' pad, I tried the spicy beef tapa, which is forever delicious.
As the time flew while eating and talking bikes, the door leading to Y-Zone suddenly opened. And lo and behold, the tough-looking Yamaha Tracer 900 adventure bike and the sexy MT-09 naked rolled before the curious eyes of big bike fanatics.
ADVERTISEMENT - CONTINUE READING BELOW ↓
But oops! Moto Sapiens editor Aris Ilagan wrote about the a Tracer 700 a few days back. Was it just a typo error? Or maybe he's just hallucinating?
I'm not new to the MT-09 as I earlier dreamt of having the previous version in my garage. It's an exciting bike, and I have only good things to say about it. Keeping the awesomeness of the 2016 model, the new MT-09 steps up by adding a slipper clutch. Such an upgrade would entice one looking for enhanced performance on a bike that's helpful when downshifting or slowing down while cornering at high or low speed.
They've also given it a facelift, making it look more aggressive with the new stylish LED headlights. The new lines along the radiator make it seem more muscular, while the new tail give it a modern edge.
The 2017 MT-09 goes for P549,000 with a two-year warranty. They have three color options and have included my personal favorite: gray and bright yellow. They still have the black and blue hue which carries a more classic Yamaha look, and a more conservative black with gray accents.
Maintaining the previous display with the convenient modes and settings, Yamaha delivers the 2017 MT-09 armed with more umph and that familiar engine that revs your heart.
I have recently been riding with different bike groups and have noticed that adventure bikes are always being discussed. It seems like more riders who like to go around the country have realized the practicality and comfort of an adventure or touring bike.
ADVERTISEMENT - CONTINUE READING BELOW ↓
Recommended Videos
Even in some chat groups, many rider friends are looking for a dependable, fun-to-ride bike they can mount anytime for out-of-town escapades. It makes perfect sense to me now. Long rides, upright position, comfort for the rider plus a passenger (yes, the passengers' opinion also counts), and versatility are a few key points adventure bikers normally point out.
So, here is the Tracer 900 decked with that adventure touring appeal. It's like the outdoorsy twin of the MT-09, with the same 113hp and 1,440mm wheelbase. Even the wheel size and brake system for the two remain unchanged.
I'm liking the adventure-bike idea now. And for P589,000, I am liking the Tracer 900 even more. If one was looking for a motorcycle for long rides, a sporty engine feel, and something that can get on the highway and handle a bit of bumpy road, this multi-talented bike blessed with longer suspension travel could be an excellent option. Versatility is a key feature of this new Japanese stallion.
Definitely, there are a few concepts mirrored from the Super Tenere 1200, Yamaha's original mighty adventure bike. Its instrument panel and LCD display are identical. But they've taken out the cruise control perhaps to up the sport touring feel. It has riding modes similar to the MT-09. It may not have as many bells and whistles as the other adventure bikes, but shall we go back to the price point?
The cost of the Tracer 900 may be one of its attractions, and would put it on the riders' wish list of two-wheeled adventure machines. For those concerned with aesthetics, it comes in two color options: dark gray or gray and blue.
ADVERTISEMENT - CONTINUE READING BELOW ↓
You can check out these two new sizzling models at Y-Zone, Greenfield District, and perhaps grab a spicy beef tapa at the Motora Azul 1955 Café Lounge next door. This will make your ordinary bike night a little more special.