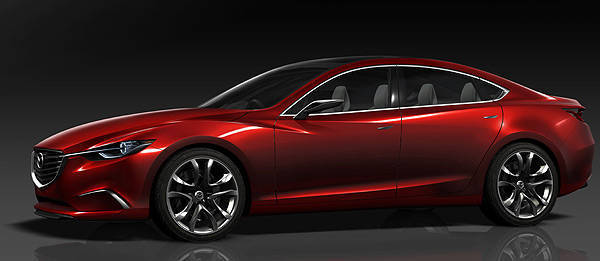 What you're looking at is the Mazda Takeri concept car, which the Japanese carmaker will debut at the Tokyo Motor Show this November. This could also very well be the next-generation Mazda 6 since Mazda itself has identified it as "a next-generation midsized sedan."
Like the CX-5 crossover, the Takeri concept exploits Mazda's new Kodo design language supposedly to bring a new level of strength and allure to sedan styling. It also makes use of Mazda's Skyactiv Technology like the carmaker's first regenerative braking system that converts kinetic energy to electricity to power the Takeri's electric equipment, thereby reducing load on the engine and saving fuel.
Combined with the new Skyactiv-D diesel engine, i-stop stop-start technology and new lightweight, aerodynamic and chassis technologies, Mazda claims the Takeri has excellent fuel economy while providing "vigorous performance and a comfortable ride."
If this is indeed the next-generation Mazda 6, what do you think of it? Let us know in the comment box below.
[gallery]1074[gallery]