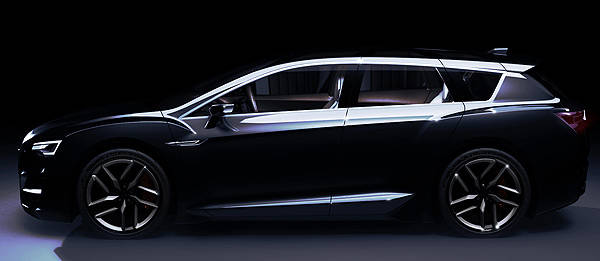 The much-awaited BRZ two-door coupe isn't the only car that will aim to impress in Subaru's corner when the doors of the Tokyo Motor Show. The Japanese carmaker will also show off what could be the next-generation Legacy wagon through the Advanced Tourer Concept car.
Envisioned by Subaru to be a "revolutionary sports tourer", the Advanced Tourer Concept was developed as a new-generation sports wagon that combines superior driving performance with utility.
For its exterior, the Advanced Tourer Concept features an innovative exterior design that is not found in conventional wagon. We're talking about flowing lines found on the car's flanks and doors--a design that gives it a stylish look that calls to mind a coupe-style car.
Inside, the car's occupants are treated an expansive glass roof to give the cabin a more spacious atmosphere while various textures such as wood and metal are incorporated into the layout to add to the ambiance. A large monitor built into the steering wheel allows access to maps, television and Internet services.
Powering the Advanced Tourer Concept is a direct fuel-injection turbo engine that has been downsized from today's 2.5-liter displacement to just 1.6-liters to drastically improve combustion efficiency at practical driving-speed range. Putting the power down to Subaru's unique symmetrical all-wheel srive (AWD) system is the carmaker's Lineartronic continuously variable transmission (CVT)--the world's first longitudinally-mounted chain drive CVT to be utilized in mass-produced AWD passenger cars.
Continue reading below ↓
Recommended Videos
The Advanced Tourer Concept also makes use of Subaru's original hybrid system, which has been developed to harmonize with the brand's symmetrical AWD technology to further enhance its appeal.
A single-motor system was employed for its simple structure and light weight. Drawing its power from a lithium-ion battery pack, the system has an electric-vehicle mode, which allows AWD motion using only the electric motor at start-ups and low-speed drives. When decelerating, a regenerating mechanism uses the motor to power a generator that, in turn, charges the battery pack.