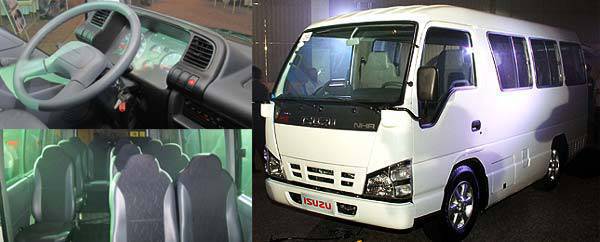 Isuzu Philippines has launched the Microbus, a commercial vehicle based on the N-Series truck platform, for fleet and mass transport use.
The Isuzu Microbus, which will be available starting the second half of 2010, is powered by Isuzu's 2.8-liter 4JB1-TC engine. Its body, which can accommodate up to 16 passengers, is built by coachbuilder Centro Manufacturing Corp.
"Customer-oriented establishments looking for a dependable and affordable means of transport for their clients now have the best mini bus the industry can offer," Isuzu Philippines senior vice president Arthur Balmadrid said in a statement.
In a separate interview, Balmadrid said the Isuzu Microbus on display is still just a prototype as it may still be modified prior to the vehicle's availability later this year.
Continue reading below ↓
Recommended Videos
"It's price will range from P1.3 million to P2 million, depending on the interior components. Right now, we are still getting a feel of what the market wants in the Microbus," he added.
Isuzu Philippines also launched the 2010 edition of its N-Series trucks, which are now Euro 2-complaint. The N-Series truck may be modified into a passenger van, refrigerated van, fire truck, cargo truck, and tanker, among other applications.
Isuzu Motors Ltd.'s Masahisa Kitamura, chief engineer of the N-Series truck who was in Manila during the launch, said the truck was really designed to meet the requirements of different businesses.
"Our customers consistently cite its durability, reliability, fuel-efficiency and low maintenance costs as being the main factors as to why they choose this vehicle," Kitamura said.
Isuzu Philippines said the N-Series has been the country's leading light-duty truck since 1999. Data from the Chamber of Automotive Manufacturers' in the Philippines showed that in 2009, Isuzu Philippines dominated the light-truck sector of the commercial vehicle segment with sales reaching 997 units representing 49.2 percent of the market.