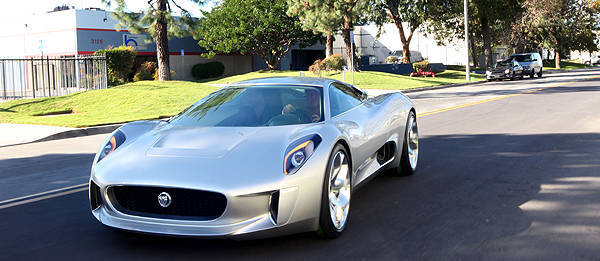 The Jaguar C-X75 bagged the Most Significant Concept Vehicle of 2011 and the Concept Car of the Year awards at the 10th Annual North American Concept Vehicle of the Year Awards in Detroit, Michigan.
The C-X75 bagged the award by receiving the highest overall score among the segment winners in the car, truck and production preview categories. This marks the first Most Significant Concept Vehicle honor for Jaguar. As for the Concept Vehicle award, it is the British carmaker's third after the Jaguar ALC concept and the C-XF won in 2005 and 2007, respectively. The C-X75 trumped the Audi Quattro, the Mazda Shinari and the Porsche 918 RSR Hybrid in the search for the concept car of the year.
Over two dozen jurors took part in the selection process that involved 29 vehicles, each introduced to North America during this season's auto shows in Los Angeles, Detroit, Chicago, Toronto and New York.
"We are extremely proud to have been named the Most Significant Concept Car of the Year," said Ian Callum, design director for Jaguar. "We're at our best when we're breaking the mold--making our cars stand out for all the right reasons. C-X75 is an exciting project for us and a clear statement of Jaguar's intent to continue creating bold, innovative and beautiful performance cars."
Last May, Jaguar announced that it will put the C-X75 in a limited production run of 250 units. However, instead of utilizing two micro gas-turbines like in the concept car, the production model will use a hybrid system that "will offer performance on a par with the fastest production cars on the market, while adopting cutting-edge technology that offers remarkably economical running."
The Jaguar C-X75 made its public debut at the 2010 Paris Motor Show.