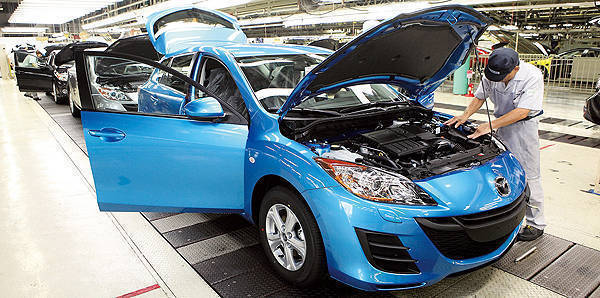 Thailand may be expected to pick up the slack of the stricken auto industry following the March 11 earthquake and tsunami that hit Japan but car company executives from the Southeast Asian country say they were also affected by the double disaster.
According to Prachin Eamlumnow, chairman of Grand Prix International Co. Ltd. that organizes the Bangkok International Motor Show, Thailand's automotive manufacturing industry will feel the effect of the Japan disaster for about three months starting this April.
"The effect of the earthquake on Thailand's production would be on the electronic components and systems, which are mostly imported from Japan," said Eamlumnow. "The production of pickups, which is Thailand's biggest automotive product, will not be affected since the production of these vehicles is done entirely in Thailand."
Eamlumnow's sentiment was echoed by many auto executives of Japanese brands in Thailand.
Honda Automobile (Thailand) for example, expects its production to run normally until mid-April. The same goes for Nissan Motor (Thailand) which says it has sufficient stocks for production until April. Mazda Sales (Thailand), meanwhile, said it expects the problem to be limited only to the recently-launched all-new Mazda 3.
As carmakers in Japan recover from the disaster, auto manufacturers and importers in the Philippines continue to assess the impact of recent developments on the local market.
Continue reading below ↓
Recommended Videos
"We are still assessing the situation and its possible effect in Honda Cars Philippines' operations," said Voltaire Gonzales, Honda Cars Philippines' vehicle sales and corporate communications chief.
Ford Group Philippines, which distributes Mazda vehicles in the local market, sees no problems with the Mazda vehicles it imports from Thailand like the Mazda 2 subcompact and the BT-50 pickup. It's a different story, however, when it comes to the all-new Mazda 3.
"We still produce the current model Mazda 3 in our Sta. Rosa plant but for the all-new Mazda 3, we're still in the dark as to when we'll finally get it here," added Ford Group Philippines' assistant vice president for corporate communications Anika Salceda.
Photo from Mazda