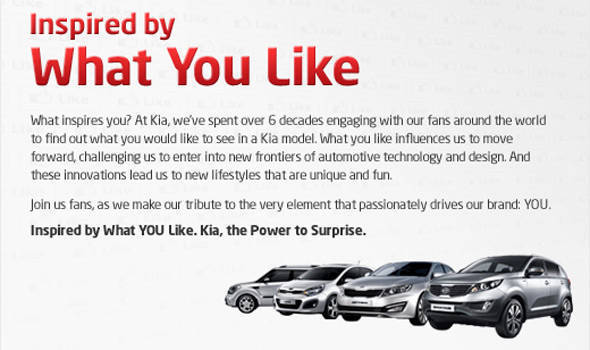 Kia has kicked off its slightly long-ish new global brand campaign called 'Inspired by What You Like. Kia, the Power to Surprise.'
According to the Korean carmaker, the campaign aims to "increase awareness and understanding of Kia's core brand beliefs--'Challenger', 'Human-driven' and 'Spirited'--through TV commercials and digital media in key sales markets."
Besides the large-scale traditional media exposure, Kia wants to provide an engaging digital experience and create a more intimate bond with its customers. Kia hopes to do this by focusing on social media platforms, particularly Facebook, where users can participate and share their experience with peers.
Kia's digital campaign will be rolled out in three phases on Kia's worldwide Facebook page and will include a social-media quiz, a corporate social responsibility (CSR) program and a state-of-the-art semantic interactive social movie.
Phase one is a social media quiz called Guess What Nadal Likes with the carmaker selecting two winners from those who submit the most correct answers and award them with a trip for two to the 2012 Australian Open tennis tournament. The correct answers along with the winners will be revealed on December 10.
For the second phase, Kia will team up with a globally-renowned environmental-advocacy organization to drive awareness and to support the carmaker's commitment to sustainability by sharing its values with its Facebook fans. Driven by the theme "Inspired by What You Like," Kia will ask its fans to place a badge on their profile pictures representing their support for the environment. In response to the level of support generated on Facebook, Kia will donate vehicles to the organization for use in its daily efforts at assisting developing countries in implementing environmentally sound policies and practices. The "Kia Likes Caring" CSR program starts on November 8 and is expected to end on January 31, 2012.
Continue reading below ↓
Recommended Videos
The third, which is set to launch on November 18, has Kia introducing its Like Lab. According to the carmaker, this "is a state-of-the-art semantic social movie that will allow users to control the content of the story to reflect what they like." The story supposedly unfolds with a scene inside Kia's secret agency called Like Lab where agents and researchers study various "likes" from users to create the best designs and quality for their cars.
"Through our new global brand campaign, we want to pay tribute to our fans around the world for the strong interest and loyal support they have shown in the Kia brand and our cars," said Tae-Hyun Oh, senior executive vice president and chief operating officer of Kia Motors. "We are truly inspired by them, and their voices motivate us to challenge the norm and drive innovation. We want what they like to be reflected not only in our products but in the way we do business."