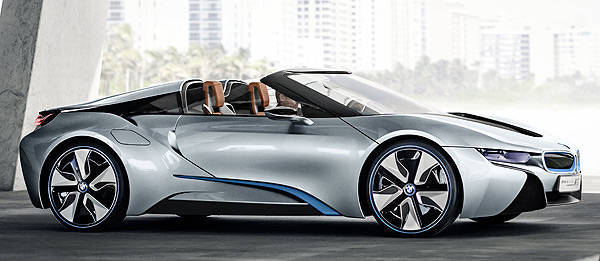 At next week's Los Angeles Auto Show, BMW will display the third concept model in its 'i' sub-brand of energy-efficient, low-emission vehicles: the i8 Concept Roadster.
The i8 Concept Roadster is basically an open-top, two-seater version of the i8 Concept coupe, which BMW revealed in August 2011. As such, it uses the same plug-in hybrid, high-performance drivetrain, with its lithium-ion battery supplying the motor with power and with the ability for it to be recharged in a short time. BMW pegs the car's performance numbers at 354hp with a zero-to-100kph time of 4.6 seconds.
Some of the standout features of the i8 Concept Roadster are its upward-swiveling, windowless doors and a range of purpose-oriented, on-board equipment including electric kickboards that are stowed under a transparent tailgate.
BMW didn't indicate if and when the i8 Concept Roadster will be produced.
Continue reading below ↓
Recommended Videos