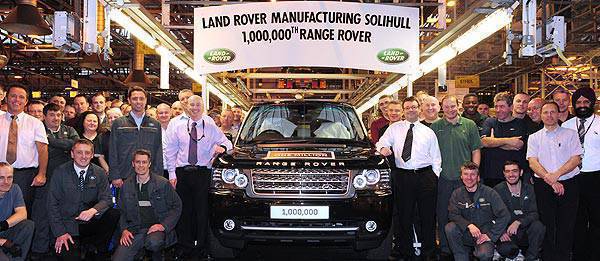 Land Rover recently rolled out its 1,000,000th Range Rover and while the British carmaker could have easily sold off such a landmark vehicle, it was instead donated to charity.
Built at the Solihull manufacturing plant where three generations of the Range Rover have been built since June 1970, the one-millionth vehicle is a Range Rover in Autobiography trim finished in ultimate black. After it rolled off the assembly line, Jaguar Land Rover managing director Phil Popham drove the landmark vehicle to London to deliver it to Help for Heroes, a British charity that helps wounded British soldiers.
"The vehicle will be auctioned later this year and should raise valuable funds for the practical and direct provision of aid for wounded service people and their families," said Popham. "Everyone involved in Land Rover--from the management, to the employees at Solihull, to the original Range Rover team--will be happy we're able to mark this landmark occasion in such a way after the forty years of producing this iconic vehicle."
The Autobiography trim is the highest-specification model available in the Range Rover lineup and is valued at over £85,000 (over P5.905 million at £1:P69.471). When it is auctioned off later this year, the Range Rover is estimated to fetch over £100,000 (over P6.947 million) for Help for Heroes.
Continue reading below ↓
Recommended Videos
"We're delighted that Land Rover has chosen to give Help for Heroes their millionth Range Rover," said Bryn Parry, chief executive and co-founder of Help for Heroes. "This is a real milestone in their history and so a very special donation, made even more special by knowing the money raised from the car will be able to provide much needed funds to help our wounded heroes on their road to recovery."