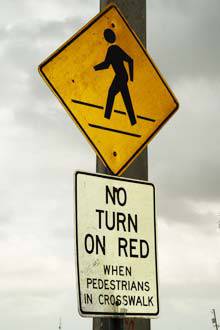 A Filipino lawmaker believes international road regulations applied in the Philippines do not provide enough safeguard for pedestrians and has filed the Pedestrian Protection Act of 2011 at the House of Representatives.
Items in the Pedestrian Protection Act of 2011 include:
- mandating the Department of Public Works and Highways and local government units (LGUs) to provide sidewalks in public roads within their jurisdiction;
- ensuring that sidewalks are free of obstruction, which may endanger pedestrians or hamper their free passage; and
- directing LGUs to place visible signages in all public roads where construction activities are ongoing to ensure pedestrian safety.
Continue reading below ↓
Recommended Videos
Calixto-Rubiano said current Philippine laws involving road users "focus greatly on motorists, placing pedestrians on the sidelines."
"Traffic laws are promulgated to establish order on roadways and ensure safety of motorist and pedestrians alike," the lawmaker said. "However, while the country is implementing traffic rules and regulations in accordance with internationally recognized standards, such rules proved wanting and deficient in so far as pedestrian protection is concerned."
To prevent accidents involving pedestrians in areas where traffic control signals are not working, the bill said the "driver of a vehicle shall yield" by slowing down or stopping when a pedestrian is crossing.
"When a vehicle is stopped at a crosswalk to permit a pedestrian to cross the public road, the driver of any vehicle approaching from the rear shall not overtake and pass such stopped vehicle," Calixto-Rubiano said.
The bill seeks to penalize pedestrian-rights violators with a fine of P5,000 or imprisonment of one year or both.
Now, this is okay if pedestrians are actually aware of their rights and they exercise them properly. There ought to be a law that protects motorists from people who refuse to use pedestrian lanes and elevated walkways for their own safety. After all, some pedestrians find anti-jaywalking ordinances far to easy to ignore. Your thoughts?