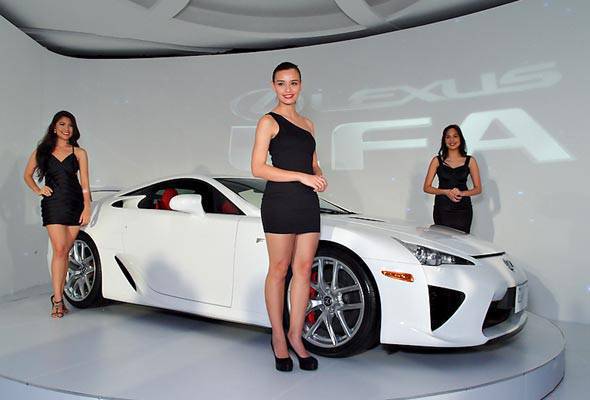 If you're an extremely rich individual who wants to one-up your neighbor in your swanky village by having the Philippines' one and only Lexus LFA in your garage, we wish you the best of luck in trying to buy it. As far as we know, no one can make the guys at Lexus Manila an offer they can't refuse.
"It's not for sale," said Carlo Chungunco, Lexus Manila's marketing officer. "We've received a lot of offers for it even before it arrived but it's not for sale."
The LFA, which stands for Lexus Fuji Apex, is a hand-assembled, rear wheel-drive supercar that the Japanese luxury carmaker began developing from scratch in 2000. Nearly 10 years in development, the production version of the LFA debuted at the Tokyo Motor Show in October 2009.
Only 500 units of the LFA will be produced worldwide, with no more than 20 units rolling out of the assembly line every month. With production of the LFA starting in December 2010, this means Lexus Manila's LFA, which is the 161th of the 500 that will be produced, was completed in August.
According to Lexus Manila, it is fortunate to be allocated a lone LFA as the only other countries in the ASEAN region to also receive an allocation for the supercar are Singapore and Brunei.
Continue reading below ↓
Recommended Videos
Chungunco refused to reveal how much Lexus Manila paid for the LFA but based on the listing of the LFA at Lexus.com, its sticker price is $375,000 or roughly P16.331 million.
Throw in the taxes, duties and other fees that need to be paid to bring it in and the price could go up to nearly P40 million. So if you're planning to buy one, make sure you put down much, much more than that to even get Lexus Manila to blink at your offer. While you're mulling how much to shell out for the LFA, check out the video below and enjoy the noise-slash-music from its engine.
Photos and video by Mikko David
[gallery]1068[gallery]