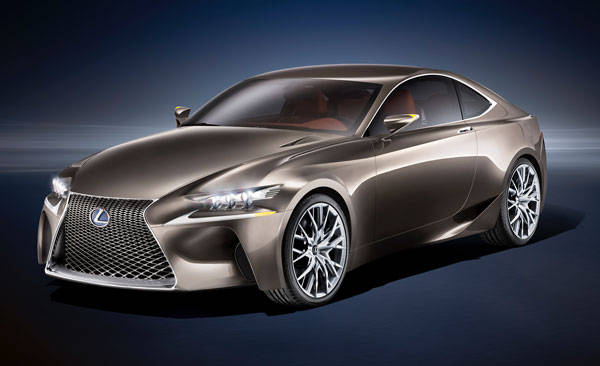 After revealing the LF-LC concept car at the Detroit Motor Show early this year, Lexus is set to unveil a midsize coupe concept at the 2012 Paris Motor Show this month.
Dubbed as the LF-CC, the more compact, rear-wheel-drive, full-hybrid concept car "integrates various design cues from the LF-LC," according to the Japanese carmaker's press release. The midsize coupe concept showcases Lexus's modified L-finesse design language and spindle grille.
An LED-projector headlamp design is housed in the narrow gap between the lower and upper fender surfaces without a conventional one-piece cover. Fully integrated into the upper bumper surface are independent daytime running lights. Featuring a design form similar to the LF-LC concept and the LFA, the LF-CC has an aerodynamic detail designed to increase downforce over the driven wheels.
The new concept car is equipped with a 2.5-liter full-hybrid powertrain, which will be introduced in the future Lexus model range. The powertrain targets a carbon-dioxide emission of below 100g/km and promises energy efficiency. Moreover, it features a "2.5-liter, four-cylinder petrol engine mated to a compact, high-output, water-cooled permanent magnet electric motor." The gasoline engine uses D-4S direct-injection technology.
The LF-CC's hybrid drive system also features a power split device, which, via planetary reduction gears, combines and re-allocates power from the engine, electric motor and generator according to operational requirements. A compact power control unit is also available to manage the interaction of the system components.
Continue reading below ↓
Recommended Videos
[gallery]1267[gallery]