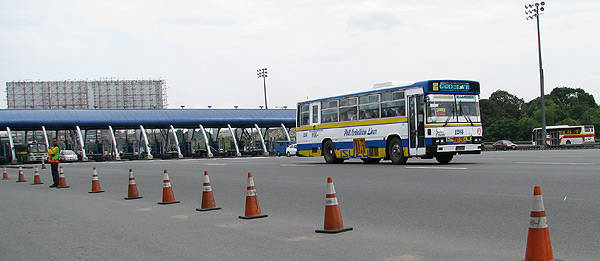 The Land Transportation Franchising and Regulatory Board has cancelled the franchise of two bus companies and suspended the franchise of 15 others for participating in the November 2010 transport strike that paralyzed Metro Manila.
According to GMANews.tv, the two bus companies that have had their franchise revoked are Jell Transport and Philippine Corinthian Liner. The 15 bus companies facing a six-month suspension of franchise are Admiral Transport, Angelito Chang, Arabia Boy Express, Don Mariano Transit, Gil 5000, Jacinto Torres, Luzon Bus, Ma-Fel Transit, Manrose Liner, Margarito Peñalosa, Nova Auto Transit, Panda Transit, Roval Transit, Voyager Express and Wendell Littad.
Despite the LTFRB's revelation of the names of the bus companies that have had their franchise suspended or cancelled, they can reportedly still operate their respective routes in Metro Manila. According to LTFRB chairman Jaime Jacob, the bus companies should first receive a notice of their franchise's suspension or cancellation and that they have up to 30 days to file a motion for reconsideration with the Department of Transportation and Communications.
The LTFRB's decision to penalize the bus companies stems from their participation in a transport strike staged on November 15, 2010, to protest the inclusion of their vehicles in the Metropolitan Manila Development Authority's (MMDA) Unified Vehicular Volume Reduction Program, otherwise known as the number-coding scheme.
Continue reading below ↓
Recommended Videos
In an interview with the Philippine Daily Inquirer, LTFRB board member Manuel Iway said that the arguments presented by the bus companies as to why they failed to operate that day, like saying that most of their buses were covered by the coding scheme on the day of the strike or that many of their drivers called in sick, were "unbelievable."