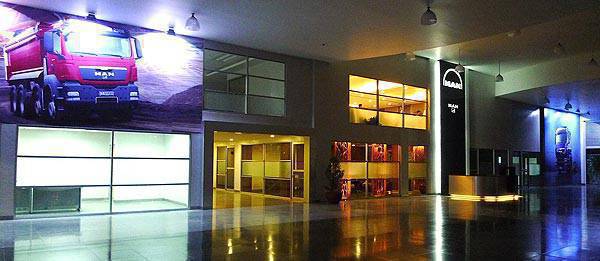 MAN Automotive Concessionaires, the exclusive distributor and assembler of German-made MAN trucks and buses in the Philippine market since 1989, has opened a new showroom in the hopes of boosting its sales in the country.

"Before, the only MAN Truck & Bus Center was the one in Novaliches and people hardly knew that there's actually a local MAN distributor," said Rarri Lu, MAN Automotive after-sales director. "With the opening of the new showroom, we're letting people know that MAN trucks and buses are available in the Philippines and that we're here to do business."

The new MAN Automotive showroom is a 4,500-square meter facility located at the corner of EDSA and Seminary Road in Quezon City--formerly the location of the Ford Balintawak showroom.

Besides having a unit of the newly-launched TGS series of trucks on display in the main showroom, clients can check out other MAN truck models like the TGA series of trucks, and the CLA series, which is the product of a joint venture between MAN and India's Force Motors. MAN Automotive also sells bus chassis with the body locally-manufactured by Almazora Motors.

"We also sell five-year old, second-hand MAN trucks from Germany, and these are priced very competitively with the ten-year old, reconditioned Japanese trucks," Lu said.

Lu added that the truck selling business isn't as volume driven as the car selling business but when a client places an order, it often numbers in the double-digits. Just recently, Lu said a beverage industry client placed an order for 60 trucks.

"Most of our clients are leaders in the transport industry," Lu said. "Some are commercial fleet providers while some are direct clients like petroleum companies, beverage companies."
ADVERTISEMENT - CONTINUE READING BELOW ↓
He added that MAN Automotive's turn-around time from order to delivery usually takes three months.
"Depending on the order, we can receive between 10 to 20 trucks for delivery to our customers every month," Lu said, adding that the number of vehicles MAN Automotive registers each month is the figure that is reflected in the joint report of the Chamber of Automotive Manufacturers in the Philippines and the Truck Manufacturers Association.

As part of its efforts to support its growing list of clients, MAN Automotive has internationally-trained technicians who use modern computerized diagnostics tools to facilitate a vehicle's repair. When servicing a vehicle, only original parts are used, which are readily available 95-percent of the time. MAN Automotive also offers a 24/7 Road Emergency Assistance Service to its clients.
Photos from MAN Automotive Concessionaires