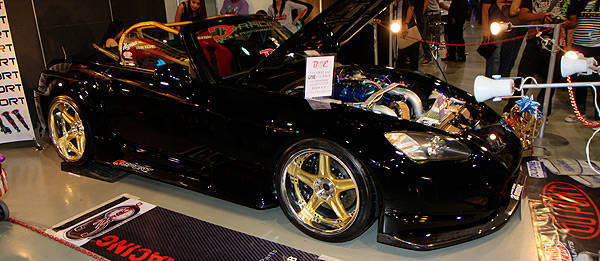 Rookie entrants to the 2012 Manila Auto Salon bagged the Best of Show awards, with Bace Garage's Honda S2000 winning the Tuner category and Unique Autowerkes' Porsche Carrera S topping the Custom Car category.
As a first-time participant, Craig Samson of Bace Garage only wanted to win the Best in Paint award so he was pleasantly surprised that his S2000 was named 'Best of Show-Tuner Car'.
"Bace Garage is really a paint and bodykit shop so we were really only after the Best in Paint award," shared Samson. "So to be given the Best of Show award was really unexpected."
Samson has had the S2000 for a year, and his team has been working on it since he acquired it, starting with the upgraded, supercharged engine. What Samson is really proud of is the car's Amuse wide-body kit, which he claims to be the only one of its kind in the Philippines.
"I had to import all of it from Japan and they came piece by piece, so it took some time before we finally had the complete set," said Samson.
Inspired by his Best of Show trophy, Samson is now busy readying a Nissan R34 Skyline as one of his entries for the 2013 Trans Sport Show.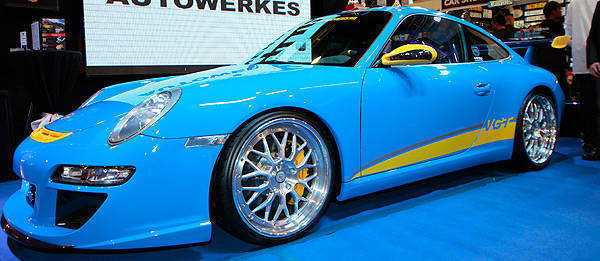 Continue reading below ↓
Recommended Videos
Unique Autowerkes previously participated in the 2010 staging of the Trans Sport Show using the Lamborghini Diablo of shop part-owner Eric Tanael. For the first time at the 2012 Manila Auto Salon, it entered the car--a 997 Porsche Carrera S--modified to become a supercharged supercar. Owned by a customer, the Carrera S was recognized as the Best of Show-Custom Car.
"We only got the car three months ago, but it's a good thing that all the parts we needed to put together were already on hand so that made it easy to assemble everything together," said Tanael.
Trusting Tanael and partner Sandy de Guzman's experience, the owner left everything to them to change the Carrera S from its stock look to its very much customized, supercar-eating, powder blue exterior.
"We wanted to leave the front and rear bumpers bare to show off the carbon fiber weave, but we decided to paint it to match the body instead so that it has a nice, clean look," Tanael added.
Winning one of the four major awards has given both Tanael and de Guzman the urge to enter a car in the 2013 Trans Sport Show, but they have yet to decide what car to field at the event. Tanael would like to see the award boost Unique Autowerkes' business.
"Winning a Best of Show award is very addicting," Tanael said. "I'd like us to win another one again, but what I'd really want is to expand our business and grow it from the small shop that we have right now to a much bigger one."
The other winners at this year's Manila Auto Salon are:
Best in Paint
Shop: Unique Autowerkes
Owner: Unique Autowerkes
Entry: 2005 Porsche Carrera S 997
Best of Show-SUV
Shop: Jeff's Off Road Shop
Owner: Mark Martinez
Entry: 1996 Toyota Land Cruiser 80
Best of Show-Sport Truck
Shop: 199 Off Road House
Owner: Martin de Leon
Entry: 1986 Toyota Hilux
Most Spectacular Display
Shop: Steve Payne Customs, New Zealand
Owner: Steve Payne
Entry: Ford Hot Rod
Best Bodykit
Shop: JSK Custom Paint & Autoworks
Owner: Johnson Tan
Entry: 1994 Mazda RX-7
Concept Award
Shop: G&G International
Owner: Jotle Viray
2001 Ford F-150
Extreme Tuner Award
Shop: FM Garage Painting/DAWG Motorsport
Entry: 1993 Honda Civic
Best Graphics
Shop: Equal Trade Enterprises/ Firland Audio
Owner: Patrick Torres
Entry: 2000 Toyota bB
Fabricator's Award
Shop: Makna Marketing
Owner: TRIX Offroad Center
Entry: 2012 Toyota Hilux
Photos by Marlon 'Taz' Dacumos