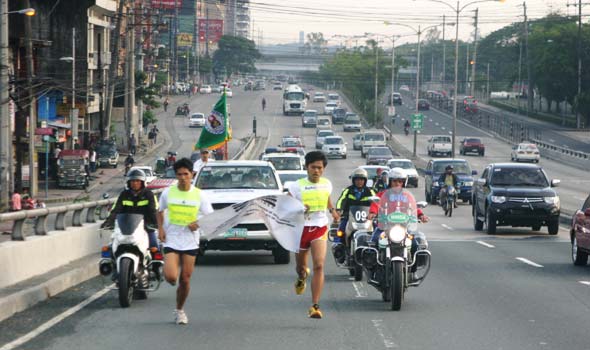 Motorists were not the only ones who participated in the Philippine launch of the United Nations' Decade of Action for Road Safety program on May 11.
A group of elite runners, including marathon champions like Cris Sabal, Rey Antoque and Eilene Tolentino, led a convoy of cars and motorcycles on a 38-kilometer 10-station relay run in line with the road safety program.
The run kicked off at Kilometer 0 at the Rizal Park on May 11 and passed through the cities of Manila, Pasay, Makati, Quezon and Pasig. Each relay team ran four minutes per kilometer and carried the Road Safety Pledge. It was passed on to the next group until the convoy reached the finish line. Transport and Communications Assistant Secretary Dante Lantin joined the relay at the 9th relay station.
Organizers of the relay run said this is a "unified act of commitment in promoting public awareness of making the nation's main thoroughfares safe for motorists, commuters and pedestrians alike."
Continue reading below ↓
Recommended Videos