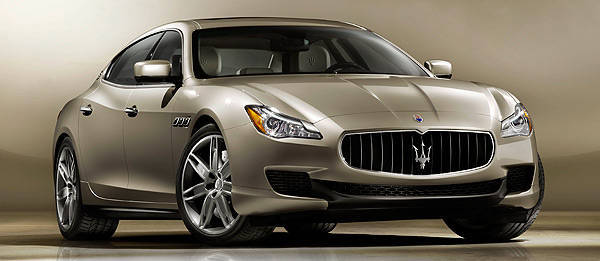 Last month, Maserati announced that it would launch three new models that will give the Italian carmaker "a completely new scope to 50,000 units per year by 2015." Well, the first of the three new models has been launched by Maserati and it's the all-new Quattroporte.
"This growth is a challenge for which Maserati has carefully prepared itself and that we all welcome with anticipation," said Maserati chief executive Harald Wester. "It is a growth based on those values of style, elegance, quality, performance for which Maserati has always been recognized and praised in almost 100 years of history. It is a growth that will be based on three new models entering two new segments of the automobile market--and it starts with the all-new 2013 Maserati Quattroporte."
The all-new Quattroporte retains the curvaceous silhouette and the sleek snout of its predecessor. Elements from the previous model that have been purposely maintained for the new car are the front grille, the three side vents, and the triangular C-pillar. Stylish and functional features that are being introduced to the new Quattroporte are the frameless doors and three side windows.
Though Maserati would only disclose that a V8 engine will be offered with the new Quattroporte, the carmaker did share that it was entirely designed and engineered by the brand and that it will be hand-built by Ferrari in its Maranello plant like its predecessor. Maserati added that the all-new luxury sedan's engine benefits from the latest technology and establishes "new benchmarks for Maserati in terms of power and acceleration."
Continue reading below ↓
Recommended Videos
"Passion is indeed the middle name of a whole new generation of Maserati engines that will equip the all-new Quattroporte and the models that will soon follow her on the market," said Maserati powertrain director Paolo Martinelli. "The passion and state-of-the-art technology that is at the heart of all the new Maserati engines that will be mounted on the next generation of Maserati products, have produced engines that are not only more powerful than ever--or more exciting to drive than ever--but also more eco-friendly than ever before."
In case you didn't know, this is the same Paolo Martinelli who headed Ferrari's Formula 1 engine department from 1994 to 2006, and in the process won five drivers' and six constructors' championships.
The all-new Maserati Quattroporte will make its public debut at the 2013 Detroit Motor Show in January.
[gallery]1301[gallery]