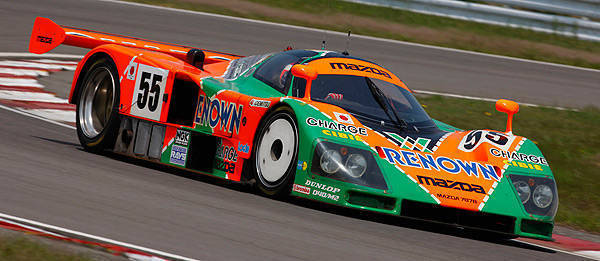 The Mazda 787B race car will once again take on Circuit de la Sarthe in Le Mans, France to celebrate the 20th anniversary of the Japanese carmaker's 1991 victory in the world's most demanding endurance race: the 24 Hours of Le Mans.
Mazda's 787B is not just the first and only Japanese car to win the 24 Hours of Le Mans, it is also the only rotary-engine powered car to ever capture the checkered flag in the legendary endurance race.
Jointly developed by Mazda and its in-house race tuning arm Mazdaspeed, the 787B is powered by a four-rotor rotary engine and was designed to meet the Fédération Internationale de l'Automobile's (FIA) Group C technical regulations. Because of a change in the Group C's technical regulations from the 1992 season onwards, 1991 was to be the last year a rotary-engine car could compete in the 24 Hours of Le Mans. Fortunately, after 17 years of trying, Mazda finally took the overall victory in Le Mans, with the winning 787B finishing five places ahead of another 787B and seven slots ahead of the car's predecessor, the 787.
The race-winning Mazda 787B has since been on display at the Mazda Museum in Hiroshima, Japan. To prepare the car for its anniversary run at Le Mans in June 11, Mazda has carefully restored the winning racecar back to driving condition for the first time since its post-race overhaul in 1991.
Continue reading below ↓
Recommended Videos
Work on the 787B was carried out by current Mazda employees who were originally part of the company's Le Mans Challenge Project along with engineers from Mazda's subsidiary engineering company Mazda E&T. The restored race car was then tested by one of Mazda's in-house drivers and its performance confirmed by former Mazda factory drivers Yoshimi Katayama, Takashi Yorino and Yojiro Terada at Mazda's Mine Proving Ground in western Japan.
"Mazda is founded on a desire to 'never stop challenging.' This spirit brings Mazda Group employees together across the globe, and it inspires us to achieve the demanding goals we set ourselves," said Takashi Yamanouchi, president and chief executive of Mazda Motor. "Exactly 50 years ago, in 1961, Mazda commenced development of the rotary engine. The road from this beginning until our 1991 victory at Le Mans, and on to our current SkyActiv technology development program, is built upon our spirit of challenge. 2011 is set to be another landmark year for the entire Mazda Group, as we enter our SkyActiv era with the global introduction of our next-generation vehicles."
The Mazda 787B will make a brief demonstration run of the Circuit de la Sarthe at 12:30 p.m. (local time) on June 11 before the 78th staging of the 24 Hours of Le Mans officially starts at 3 p.m..
[gallery]926[gallery]