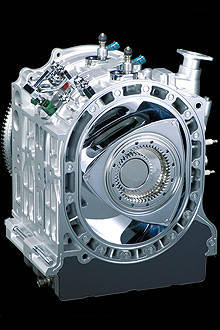 It seems Mazda isn't finished with the rotary engine as WardsAuto.com has reported that the Japanese carmaker "may be on the verge of a major rotary breakthrough."
Citing Mitsuo Hitomi, general manager of the brand's powertrain development, WardsAuto.com said Mazda is about to complete the development of an all-new rotary engine that meets future fuel-economy and emission standards.
"We think we've found a way to improve the rotary's fuel economy to be truly equal to that of conventional piston engines and, if so, we believe we can reintroduce the rotary to the market," Hitomi was reported as saying.
Though Hitomi did not reveal when Mazda hopes to finish developing the all-new Wankel engine, this bit of news means that the carmaker has never totally abandoned the rotary engine and that a new car powered by it could potentially be under way.
According to Hitomi, the fuel economy and emission of the developmental rotary engine was improved by changing the shape of its troichoid housing so that its seals remain flush to the housing. Another engineering breakthrough was with the engine's ignition system. Although Hitomi didn't disclose the measures they took to address the problem, he did say that they "found a way to make dramatic improvements."
Continue reading below ↓
Recommended Videos
Can you wait a little longer for Mazda's next rotary-powered RX-whatever?