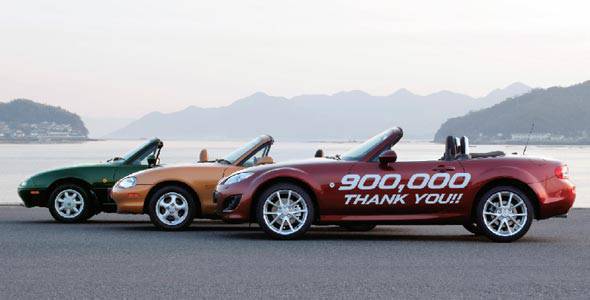 The Guinness World Records will have to rewrite its entry on the Mazda MX-5 as the world's best selling two-seat sports car for a third time as the nameplate has just set another milestone by producing the 900,000th unit.
The Mazda MX-5 first earned the Best Selling Two-Seat Sports Car title from Guinness when its production reached 531,890 units in May 2000. The record was updated in March 2004 when the MX-5 passed the 700,000-unit mark and again in January 2007 when it reached 800,000 units.
The MX-5 had its debut in the 1989 Chicago Auto Show with a 1.6-liter, inline-four engine that had an output of 116hp and 136Nm of torque. Today, what is currently the third-generation MX-5 now packs a 2-liter inline-four engine that produces 167hp and 190Nm of torque.
"As we head toward the next production milestone of one million units, Mazda is committed to further evolving the MX-5," said Seita Kanai, Mazda's senior managing executive officer in charge of development. "We will refine its fun-to-drive character and further enhance its environmental and safety capabilities. As Mazda passes its 91st birthday, we are turning our sights toward our 100th anniversary. In the years ahead, we will continue to cherish the MX-5, alongside its loyal fan base, as the symbol of the Mazda brand."
Continue reading below ↓
Recommended Videos
The 900,000th unit is headed for Germany and it is a Cooper Red soft-top, six-speed manual-equipped MX-5.
[gallery]763[gallery]