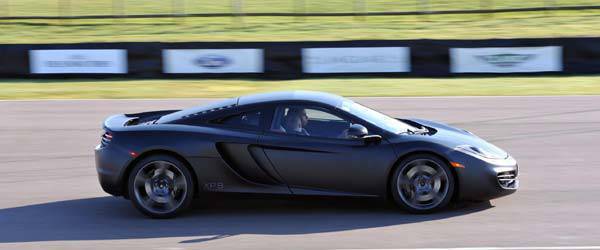 McLaren Automotive has officially been launched with the unveiling of the company's first production-ready MP4-12C, the first of a planned range of highly efficient, high-performance sports cars.
"Like most designers it's a boyhood dream to work with high performance sports cars. They are the purest expression of speed and purpose and, with increased consumer demand in this market and environmental aims to the fore, offer designers the ultimate challenge," said Frank Stephenson, McLaren Automotive's design director. "The 12C design was led by aerodynamics and engineering influenced by the pinnacle of car design--Formula 1--and it's a fascinating challenge to work within such inspirational philosophies."
Continue reading below ↓
Recommended Videos
McLaren F1 drivers and world champions Jenson Button and Lewis Hamilton expressed satisfaction over the MP4-12C during the car's launch.
"Winning races is as much about the cockpit environment as other aspects, speed, reliability, and so on. That has translated to the 12C," Button said. "The driving seat is very comfortable and the layout of the controls is completely logical. I like that there is no switchgear on the steering wheel. You select the mode you want before you begin driving and there's no need to concentrate on anything but driving after that."
Hamilton said the McLaren MP4-12C is "a real driver's car."
"It delivered on all my expectations," Hamilton said. "It was clear when meeting the Automotive test team that they share the same competitive focus as our race team. We're obsessed with winning and we'll do all we can to make sure that happens. If the 12C team say they are aiming to make the best performance car on the market, then I'm convinced that is what they will do."
McLaren Automotive developed the MP4-12C to be a "pure" McLaren, with all parts from the V8 twin-turbo engine to the switches and electronics all designed by the outfit. Made almost entirely of carbon fiber down to the chassis and with its engine putting out 600hp and 600Nm of torque to propel the car from zero to 200kph in just under ten seconds, McLaren Automotive is aiming for the MP4-12C to be "the most powerful, the most efficient, and the lightest car in its class."
McLaren Automotive will have an official retail network in 19 countries. Pricing and final performance figures of the MP4-12C will be revealed in the second half of 2010. McLaren Automotive said over 1,600 "expressions of interest to purchase" the MP4-12C have been made even before the launch despite the company's plan of producing only up to 1,000 units which are scheduled to be delivered in 2011.