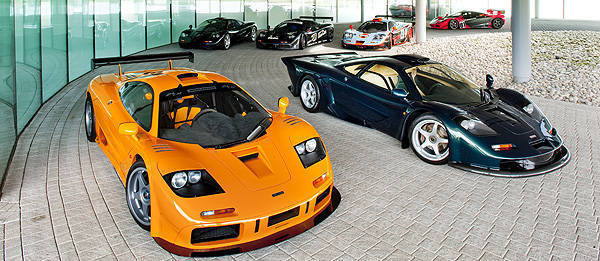 The iconic car above may not look its age, but who knew that this week marks the 20th anniversary of the McLaren F1?
The McLaren F1 was officially launched to an exclusive audience at The Sporting Club in Monte Carlo on May 28, 1992. From the start, McLaren's goal for the F1 was to build "the ultimate race car for the road." As such, no compromise was made to construct a sports car that delivered racing-inspired performance and driving dynamics.
One measure used to achieve its goal was for the F1 to utilize a carbon-fiber chassis, making it the first road car in the world to utilize the technology which McLaren also pioneered in Formula 1 in 1981 with the MP4-1 race car. Another step was to position the driver in the center of the three-seater cockpit.
With its low weight of 1,140kg combined with the 618hp output of its 6.1-liter BMW V12 engine, the McLaren F1 went on to set a land speed record for a production car of 241mph (387kph). Though other cars have since broken the record, the F1 is still the fastest normally aspirated production road car in the world.
ADVERTISEMENT - CONTINUE READING BELOW ↓
Two years after the public debut of the F1, McLaren came out with a racing version of it for the 1995 season in response to owners who saw the car's potential in the FIA GT1 series. By the end of 1995, the F1 GTR had won not only the series for that season, but also the 24 Hours of Le Mans. This secured for McLaren a unique place in motorsport history as the only manufacturer to win the Formula 1 world championship, the Indianapolis 500 and the 24 Hours of Le Mans.
The McLaren F1 was launched at a price of $1 million, and over the course of the next five years, a total of 106 examples were produced. At Pebble Beach in 2010, an F1 changed hands for $3.575 million, underlining the car's status as an exclusive performance icon.
"The F1 is a technological tour de force and a real triumph in terms of packaging and design," said McLaren Automotive executive chairman Ron Dennis. "Whether for endurance racing or the road, it is supremely fast, agile and yet comfortable. Its styling is enduring and will never fade. I enjoy driving mine more today than ever before because I find its technical purity highly satisfying. The F1 remains one of McLaren's proudest achievements."
ADVERTISEMENT - CONTINUE READING BELOW ↓
Recommended Videos