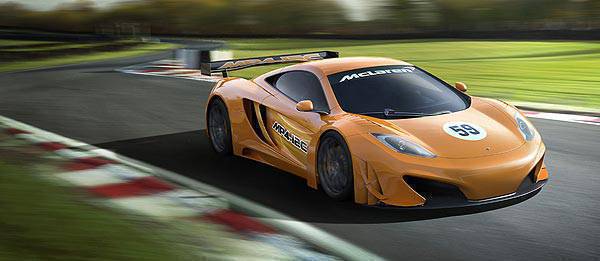 Its MP4-12C hasn't even turned a wheel in anger and it has yet to go on sale but McLaren Automotive is already grooming the mid-engined supercar to compete in the GT3 racing series.
Fifteen years after the McLaren F1 GTR won the world-famous 24 Hours of Le Mans in its debut and 12 years since sixMcLaren F1 Longtails last raced in the world-famous endurance race, McLaren and CRS Racing are working to develop the 12C road car into a race-winning GT3 sports car.
"Racing is in our blood--it was natural to develop a GT3 car alongside the 12C road car," said Martin Whitmarsh, team principal of Vodafone McLaren Mercedes. "We have a legendary history in global motorsport, including GT racing, and we aim to maintain that reputation with this GT3 program, and any future sports car projects that may evolve."
McLaren and CRS Racing, a successful and experienced GT racing team based out of Leicestershire in the United Kingdom, will initially compete in a limited number of European GT races next year. From 2012, both McLaren and CRS Racing will supply and support a limited number of MP4-12C GT3 racing cars that will be run by European-based privateer teams.
Calling it a "rare opportunity to work with a company like McLaren," CRS Racing team principal Andrew Kirkaldy said one of the aspects of the joint program between McLaren and his group is the construction of cars at a competitive price. This is expected to result in "an incredible GT car with manageable running costs and good residual value that will provide its owner with an unrivalled experience."
Prospective privateers who are interested to run the 12C in a GT3 racing series can express their interest via www.mclarengt.com. Are you one of them?
[gallery]685[gallery]