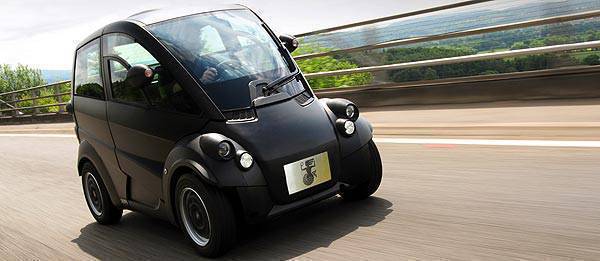 From creating what is arguably the greatest supercar ever to take to the streets in the McLaren F1, Gordon Murray has turned his engineering prowess into developing what is being called as a major breakthrough in city car design: the T.25.
Using a holistic approach, Gordon Murray and his namesake design firm incorporated solutions to a number of urban mobility problems into the T.25's design.
Its world-leading turning circle of less than 20 feet helps with the T.25's agility to maneuver and park in tight urban areas. Its width of just over four feet allows for easy lane changes or even accommodate two vehicles on one conventional lane. At less than eight feet long, the T.25 can be parked perpendicular to a curb. With its narrow width and forward-hinged door opening system, three T.25s can be parked in a single parallel parking space while giving occupants access from both sides of the vehicle.
Despite its size, the T.25 can accommodate three adults in a 1+2 layout similar to the McLaren F1. This unique central driving position promotes all-round visibility and road awareness for the driver while giving the passengers class-leading legroom that is "better than most 'B-Segment' cars" said Gordon Murray Design in a statement.
Continue reading below ↓
Recommended Videos
Other notable design features to the T.25 are its ultra-light weight of approximately 550 kilograms for better fuel efficiency, its first-in-class lightweight and low-cost independent rear suspension, wing mirrors that are located within the overall width of the T.25's body to minimize accidental damages to it, a flat under-floor to improve its aerodynamic efficiency, and the positioning of the fuel filler to facilitate refueling from either side of the vehicle. Depending on the interior's layout, the T.25's luggage capacity is between 160 and 720 liters.
Do you think T.25 will be a big seller if and when it makes its way here?