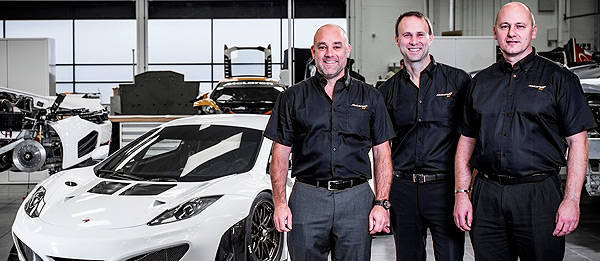 It seems McLaren GT has been busy shoring up its technical personnel. As part of its strategy to accommodate its expanding operations, McLaren Automotive's racing team has recruited three key personnel with racing experience, with two coming fresh from Formula 1 teams.
Chief engineer Ian Morgan joins McLaren GT following his departure from the Red Bull Racing Formula 1 team as the chief of racing engineering. As part of Adrian Newey's engineering team, Morgan supported the team to secure back-to-back drivers' and constructors' championships in 2010 and 2011. Morgan isn't actually a stranger at McLaren as he once held the role of senior vehicle development engineer for the Mercedes-Benz SLR McLaren project.
Operations director Andrew Bailey, meanwhile, was recruited from the McLaren Mercedes Formula 1 team, from which he brings a wealth of knowledge as the head of vehicle design for the last four years. Bailey joined the team in 2008 and oversaw the latter half of the design development of the championship-winning MP4-23. During his time with the team, Bailey was responsible for vehicle design, systems engineering and control systems. As operations director, Bailey will oversee the day-to-day operational aspects of McLaren GT.
Engine operations manager Tim White, on the other hand, brings more than 25 years of experience in top-level motorsports, having held senior positions at several leading motorsports and engineering companies like Ilmor Engineering, Mercedes-Benz High Performance Engines, and Red Bull Technologies. White joins McLaren from his most recent role of senior track support engineer for the Lotus IndyCar program.
Continue reading below ↓
Recommended Videos
"It is a really exciting time at McLaren GT, and I am really pleased to welcome three such high-profile additions as Andrew, Ian and Tim to the team," said McLaren GT managing director Andrew Kirkaldy. "Their track records in all aspects of top-level motorsports speak for themselves, and this is a real coup for them to be joining us at the end of what has been a challenging but extremely successful and competitive season. I am confident that they will enhance our existing team as we work toward further GT success during the 2013 season."