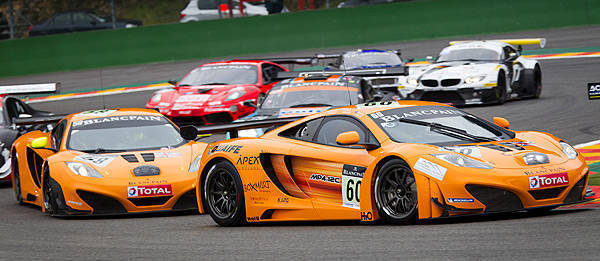 McLaren GT has revealed the names of the first 10 teams that bought the MP4-12C GT3 race car. Like the road car which the 12C GT3 is based on, the demand for it has outstripped supply as the first 20 cars available to purchase for racing for the 2012 season have now been sold.
McLaren GT is limiting the production of the 12C GT3 as the company is keen on developing a close relationship and providing continuous engineering support to its customers. According to the motorsport engineering outfit, the limited production run of the 12C GT3 will be distributed among private owners and race teams for racing in Europe next year. These clients include:
* ASM Team
* Andrew Tate
* Apex Motorsport
* Boutsen Energy Racing/Ginion Group
* Doerr Motorsport
* Gulf Racing
* J.A.S. Motorsport
* Klaas Hummel
* Leon Price
* Von Ryan Racing
"The technological expertise we have in McLaren Racing and McLaren Automotive is now being introduced to a different level of motorsport by McLaren GT. Since the launch of McLaren GT we have been overwhelmed by the number of enquiries received to purchase the 12C GT3. Our new customers are leaders in GT racing, and we're confident that we will deliver to them the most efficient, reliable and easy to drive car among the competition when it lines up on the grid next year," said McLaren Group chief executive Martin Whitmarsh.
Continue reading below ↓
Recommended Videos
According to McLaren GT, the 12C GT3 will come with a steering wheel of the same design used by Lewis Hamilton in his MP4-24 Formula 1 car. Customers have also been encouraged by the promise of no hidden costs and the opportunity to work with McLaren GT engineers throughout 2012 in developing the 12C GT3 to their own race specification.
In case you're wondering, McLaren GT has set the price of the 12C GT3 at £310,000 or roughly P21.732 million.