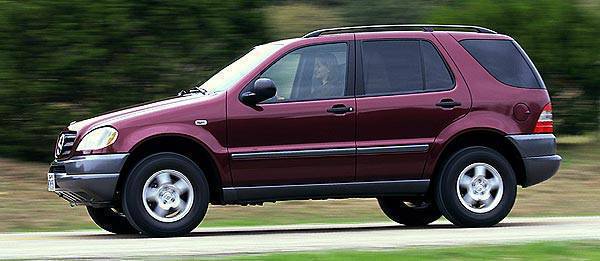 Mercedes-Benz's parent company Daimler AG is making a global recall of 2000- to 2002-model M-Class sport-utility vehicles and 2000- to 2004-model M-Class AMGs due to a cruise-control system problem.
In Mercedes-Benz USA's report to the United States' National Highway Traffic Safety Administration (NHTSA), the German carmaker said the cruise control in the affected vehicles can be disengaged by the driver simply by using the cruise-control stalk on the steering column, tapping the brake pedal or, if that fails, stepping on the brake pedal hard enough for the vehicle to decelerate.
Though Mercedes-Benz didn't disclose any specific reason, the carmaker said that under certain circumstances, tapping the brake pedal could fail to deactivate the cruise-control system and increase the risk of the vehicle causing a crash.
Mercedes-Benz USA added that if that happens, using the cruise-control stalk or applying firm consistent pressure on the brake pedal should disengage the system. The carmaker also advised against pumping the brake pedal as "the level of force required may be unusually high."
Though no accidents have been reported that were caused by the cruise control system, Mercedes-Benz dealers will reportedly repair the vehicles free of charge.
According to Reuters.com, over 130,000 vehicles in the United States and roughly 50,000 in Germany will be affected by the recall.
Continue reading below ↓
Recommended Videos
CATS Motors, the exclusive distributor of Mercedes-Benz vehicles in the country, has yet to reply to our query if and when local models affected by the recall will be serviced by the company.