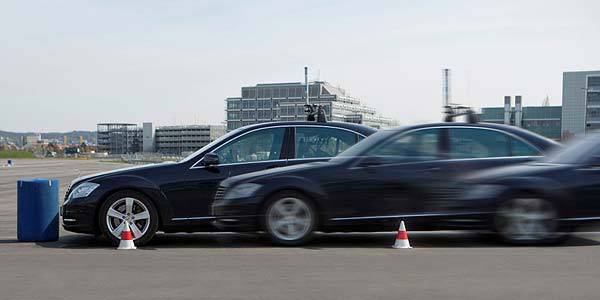 Mercedes-Benz's test drivers might have to look for another job soon as the German carmaker is rolling out an automated driving system using robots to test a car's safety features without putting anyone at risk.
"Robots" are used for steering, accelerating, and braking the car with an on-board computer controlling the system so that a pre-programmed course is exactly followed, even if there are several vehicles involved in one maneuver. 
The system performs critical driving maneuvers that cannot be reproduced precisely by human test drivers so testing a car's full potential "can now be carried out without danger and health risks to development engineers, delivering clear benefits to Mercedes-Benz customers."
Continue reading below ↓
Recommended Videos
Mercedes-Benz said since humans cannot react quickly enough to repeat driving maneuvers with desired accuracy, using the automated driving system is indispensable to test complex in-vehicle electronic systems and assistance systems as the driving tests these systems are subjected to must be carried out comprehensively "and as close to reality as possible."
"Our new automated driving test methods help us to fulfill the extremely high quality and operational safety demands placed on our safety systems more efficiently," said Bharat Balasubramanian, head of Product Innovations & Process Technologies at Corporate Research and Advanced Engineering Daimler AG. "In order to continue to set trends in the field of safety in future, our test procedures must be able to keep pace with the wealth of ideas generated by our engineers. With automated driving, we feel we are well equipped for the development of the next generation of assistance systems."
Click this link to see the current lineup of Mercedes-Benz vehicles in the Philippines.