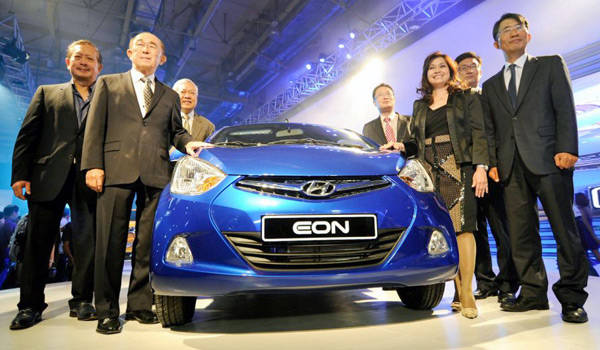 The photo above was taken at last year's Manila International Auto Show, when Hyundai had one of the two grandest booths (the other being Ford's). For the past several years, MIAS has been Hyundai's territory, its main Japanese rivals ill-advisedly skipping the event due to some unwritten agreement they have within their organization, the Chamber of Automotive Manufacturers of the Philippines (CAMPI), which organizes its own biennial car show, the Philippine International Motor Show.
This year, however, MIAS visitors won't see the logo of the Korean brand--together with local affiliates Chevrolet and Volvo--in the main hall. They decided to withdraw from the show and just stage their own event, the AVID Innovation Congress. AVID is the Association of Vehicle Importers and Distributors, the breakaway group made up of car distributors who didn't wish to join CAMPI.
As we reported yesterday, there are talks that Hyundai and its affiliates pulled out of the show because the show's organizer, Worldbex Services International, couldn't accommodate its request for a bigger and more prominent space, to the exclusion of its non-AVID rivals. Hyundai Asia Resources denies that this was the reason behind its decision to forgo the annual motor show. (See story here.)
ADVERTISEMENT - CONTINUE READING BELOW ↓
Now, Worldbex consultant Alvin Uy wrote us a rather lengthy message to clarify the issue. You can take this at face value, or you can decide for yourself if it's just usual PR talk. Here is the letter:
ADVERTISEMENT - CONTINUE READING BELOW ↓
Recommended Videos
We read your story about MIAS losing Hyundai, Chevrolet and Volvo for this year's 2013 MIAS. We are rather concerned about that part where it says Hyundai demanded more space for the main hall of World Trade Center. We wish to enlighten you about certain facts that transpired while we were in the planning stages for the 2013 MIAS.
At last year's MIAS, Hyundai Asia Resources Inc. (HARI) did occupy a large area, but it is not true that Hyundai was demanding for more space at the main hall this year. In fact, we were just looking at a similar footprint for this year's show. The same space was pencil-booked for HARI, but we were told that it would not push through due to limited time. We found out later, too, that HARI opted to focus on the upcoming AVID forum slated for the same weekend.
ADVERTISEMENT - CONTINUE READING BELOW ↓
In our initial talks with the AVID working committee, there were suggestions to consider holding the forum at the main hall of MIAS, but due to the building's (World Trade Center) physical limitations, we couldn't guarantee a good acoustic environment due to the ambient sounds and music being played up by the auto exhibitors for their model debuts, launches and promotional activities, which will be a distraction to the forum participants and the guest speakers of the said activity.
After being notified that HARI will not participate this year, we opened up the said space to other brands who were waiting to get a slot for the main hall. Bragging aside, it did not take a long time to sell the space. As you pointed out, exhibitors consider this a prime space. We also noted some of your readers' comments online that they would like to see more exotic vehicles at the show. Hopefully, we can fulfill that expectation again as well.
ADVERTISEMENT - CONTINUE READING BELOW ↓
As for Volvo, we did not get a firm confirmation that they would participate in MIAS this year, but we tried to offer some possible slots they might wish to take. Volvo was not a participant in MIAS last year, but we regularly approach them in case they would have something new to offer in the market, which they could launch in MIAS. We regularly offer to brands who have been tried and tested in previous MIAS years in terms of brand value and quality of exhibition display. Volvo won the Best Booth award a few years back, so if they decide to join MIAS again, we know they will have a nice booth display.
As for Chevrolet, we were told that the highlight product that they planned to showcase would not make it in time for the show. Their participation last year was through a dealership, and just like Volvo, there was no final booking for them yet.
ADVERTISEMENT - CONTINUE READING BELOW ↓
So, technically speaking, we cannot say they have pulled out of the show since there was no confirmation on the part of these brands to begin with. We normally pass out confirmation sheets outlining the show info and costing with a conforme slot for them to sign. There were no signed confirmations prior to the said notice.
While we are disappointed that they won't be able to join this year, we value the relationship of these brands (Hyundai, Chevrolet and Volvo) and look forward to their participation in future MIAS events. We also do not wish to give your readers the impression that certain groups are twisting our arm to advance an agenda.
It is unfortunate that some brands will not be able to join this year's MIAS. Perhaps one day, we can see an annual auto show that features all the brands represented in the country. With that, we really need a bigger venue, a fact that you pointed out in an earlier story. In the meantime, we have to build our own air-conditioned tent to connect the WTC tent building to PTTC so we can manage to get enough floor space to house not only car brands but allied products and services as well.
ADVERTISEMENT - CONTINUE READING BELOW ↓
We do agree with you that the show must go on! We have invested over 10 years in making sure we consistently come up with a show that hopefully will outdo the previous ones. Through your help and partnership, we hope that we can do it again this year.
Photo from Alvin Uy's Facebook account