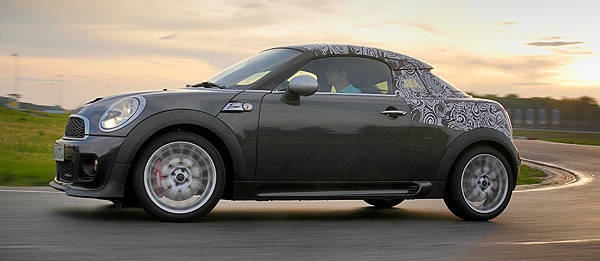 The Mini Coupé is still in the development stage but that hasn't stopped the people behind the iconic British brand from giving us a glimpse of its new car while the rear is still clad in swirly black-and-white camouflage.

According to Mini, the Coupé's selection of engines, chassis set-up, weight distribution and aerodynamic properties are all focused on delivering optimum performance. As a result, the Coupé "radiates the brand's hallmark go-kart feeling with a whole new depth of intensity and achieves the best performance statistics ever recorded by a volume-produced Mini."

The Mini Coupé is strictly a two-seater with extended stowage and loading capacity behind the driver and front passenger seats. Its flat silhouette and innovative "helmet roof" give the Mini Coupé a sporty allure that's complemented by its 29 millimeter lower stance compared to that of a regular Mini. In addition to the integral roof spoiler, an active rear spoiler optimizes airflow at higher speeds while its extremely high-opening tailgate and large luggage area with through-loading facility displays the Mini Coupé's outstanding versatility in day-to-day driving.

The Mini Coupé will be available in four variants:
- the 2.0-liter diesel-fed Mini Cooper Coupé SD with its 143hp turbodiesel engine,
- the 1.6-liter engine used by the petrol-powered variants with the standard Mini Cooper Coupé putting out 122hp,
- the twin-scroll turbocharged-equipped Mini Cooper S Coupé delivering slightly more at 184hp, and
- the Mini John Cooper Works Coupé and its motorsport-derived 211hp unit.
Continue reading below ↓
Recommended Videos
Which variant would you love to own?
[gallery]951[gallery]