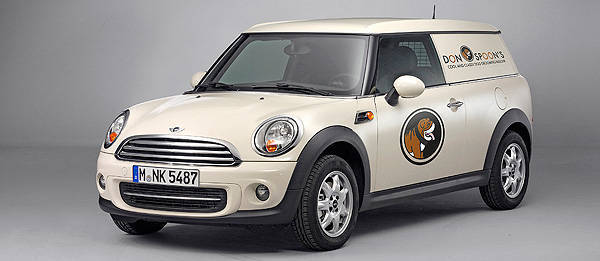 Last March at the Geneva Motor Show, Mini debuted its Clubvan concept, which combines the driving fun that the brand is known for with increased load-carrying capability. It seems the British carmaker received enough clamor for it as the Clubvan is now going into production.
The Clubvan's origin can be traced back to 1960 when, just a year after the original Mini had been launched, the space-efficient Mini Van was introduced. Now, the Clubvan is poised to follow in the footsteps of its early forerunner in the same way that the Clubman is already reprising the success of the Mini Traveller, also from the 1960s.
Based on the Clubman's platform, the Clubvan shares the same exterior dimensions. But designed as "the world's first premium compact delivery van," it lacks the rear seats and has body-colored, opaque rear side windows with interior polycarbonate reinforcement. Combined with the tinted glass in the rear doors, this keeps the load compartment well-concealed from prying eyes.
ADVERTISEMENT - CONTINUE READING BELOW ↓
For the Clubvan's cargo area, its flat loading floor and side walls are trimmed in high-quality carpeting, while an anthracite roof liner runs the full length of the vehicle. Six attachment loops recessed into the floor at the edge of the load area can be used to secure cargo and prevent items from sliding around when the vehicle is on the move. A partition behind the driver's and front passenger's seats--comprising a lower solid aluminum section and an upper stainless steel mesh section--is firmly attached to the vehicle body to prevent objects in the cargo compartment from going into the passenger compartment when the vehicle is under heavy braking. It also allows the loading of cargo right up to the roof to maximize the compartment's 860 liters of load space. Maximum payload capacity of the Clubvan is 500kg.
Three engine choices will be offered for the Clubvan. A 1.6-liter engine for the Mini One Clubvan has a maximum power output of 97hp and can accelerate from zero to 100kph in 11.1 seconds before it reaches its 185kph top speed. The Mini Cooper Clubvan, on the other hand, puts out 121hp and has a zero-to-100kph time of 9.8 seconds and a top speed of 201kph. The Mini Cooper D Clubvan, meanwhile, has a diesel-fed and turbocharged four-cylinder engine that produces 110hp, zero-to-100kph time of 10.2 seconds and a top speed of 197kph. It's also the most fuel-efficient with an average fuel consumption in the Euro test cycle of 25.64km/L.
ADVERTISEMENT - CONTINUE READING BELOW ↓
Recommended Videos
As an alternative to the six-speed manual transmission that comes as standard for all three models, the Mini Cooper D Clubvan is also available with a six-speed automatic transmission.
The Mini Clubvan officially goes on sale later this year.
[gallery]1232[gallery]