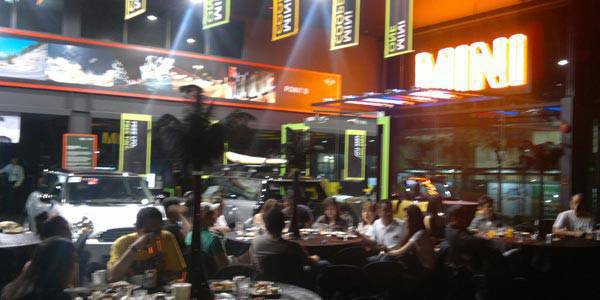 Talk about being irreverent. Mini--that chic British car brand owned by BMW--held a rockeoke event last night at its lone Metro Manila showroom in Bonifacio Global City. The marketing gimmick was part of what distributor British United Automobiles (BUA) dubbed as "Mini Buyers' Night," a treat for customers that allowed them to avail of low down-payment deals on cars, freebies and 15-percent discounts on Mini lifestyle items.
Asked if holding a rockeoke party at their showroom didn't somehow cheapen the Mini brand, Autohub marketing AVP Michelle Peralta said: "Mini is about going out of the box. We're willing to try anything. That's the good thing about this brand." Autohub is a group of automotive enterprises that operates BUA.
Peralta explained that the event was designed to introduce Mini to potential customers--those who are not yet sold on the brand but who show a serious interest in it. "We didn't invite those who are already into Mini, like members of Mini car clubs. The people we wanted to reach out to were those who are not yet convinced about the brand. We felt like an event like this would be effective with them."
And the concept apparently worked. A total of 123 prospects showed up for the event, many of them heartily belting out tunes on a makeshift stage while enjoying the free-flowing drinks and bar grub.
Continue reading below ↓
Recommended Videos
Ultimately, the true measure of a marketing gimmick's success is the conversion of leads to actual sales. "We sold two units today and got 10 reservations," Peralta proudly shared. They also sold many lifestyle items, most of which carried expensive price tags. A Mini messenger bag, for instance, costs P14,000, while a Mini wallet sells for P8,600.
If Mini is projecting itself to be an irreverent brand, BUA is certainly making it live up to the billing. A rockeoke party is a different way of promoting and selling a car brand, but at the end of the day, if it works, why not?
Photos by the author