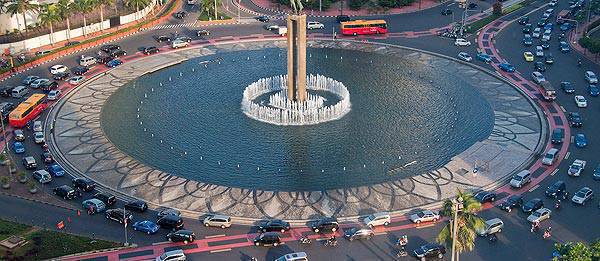 Metropolitan Manila Development Authority (MMDA) is now looking at constructing roundabouts in strategic locations in the metropolis to decongest traffic.
MMDA chairman Francis Tolentino got the idea to construct roundabouts after doing an aerial inspection of Metro Manila, which gave him a "holistic picture of the traffic situation at different areas during the rush hour."
Tolentino said putting roundabouts or rotundas will increase travel speed, which in turn will decrease travel time and eventually decongest the major roads.
"Initially, we are planning to construct nine roundabouts within six cities," Tolentino said. "Among the pilot areas we are considering are the Julia Vargas-Meralco Avenue and Redemptorist-Quirino Avenue-Taft Avenue intersections."
Simulations conducted by the agency's Traffic Engineering Center (TEC) exhibited a maximum travel speed of 26.9kph at the Redemptorist area with a roundabout in place, an increase of 209 percent, while traffic at the Julia Vargas-Meralco Avenue intersection will move 191 percent faster also with the addition of the circular junction.
TEC chief Neomie Recio admitted though that of the numerous locations the agency has identified where roundabouts could be constructed, only the two aforementioned locations yielded positive results in their studies when it comes to effectively reducing traffic.
The Chief may be on to something then. Just two months ago, he shared his appreciation for roundabouts after seeing it being widely--and safely--used in France when he went to the Paris Motor Show. Do you think rotundas will solve Metro Manila's traffic woes?
Continue reading below ↓
Recommended Videos
Photo from Wikimedia Commons