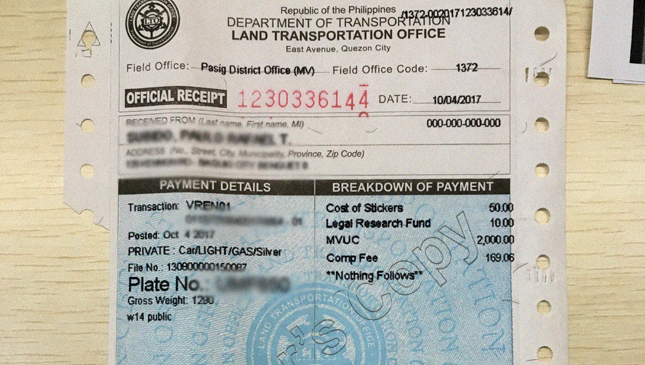 In case you missed it, the Department of Finance (DOF) is currently eyeing to increase the annual registration fees for cars in 2019, and is already drafting an executive order to raise the motor vehicle user's charge (MVUC). Now, we have some idea how much such an increase could impact motorists.
According to our source within the Land Transportation Office (LTO), the figure currently being proposed for the increased MVUC is 2.5 times a vehicle's gross weight. This could be a big jump from the current fees, which are based on set rates depending on a vehicle's weight class. For private cars, these are Light (up to 1,600kg), Medium (1,601kg to 2,300kg), and Heavy (2,301kg and up).
Continue reading below ↓
Recommended Videos
Our source says that what's being debated now is whether the charge will be divided over four years or just two, adding that the DOF prefers two years while transport cooperatives prefer four to lessen the impact of the increase.
"If 2,500kg ang gross weight ng kotse, it's times 2.5, and ang MVUC mo is P6,250," our source explains. "Ang ngayon is P2,000, so the increase is around P4,250. If you divide that over two years, that's around P2,125 added to the basic fee," she added.
"If you add that to the P2,000 base fee, the registration for the first year will be around P4,125 and it will be around P6,250 na for the second year. This is if two years lang ang division."
Now, just to be clear, none of this is confirmed yet. The computations above are still hypothetical figures, and talks between the DOF and other concerned parties are still ongoing. Nothing has been set in stone yet. Only the DOF can give the final word, so keep your eyes peeled for further updates.