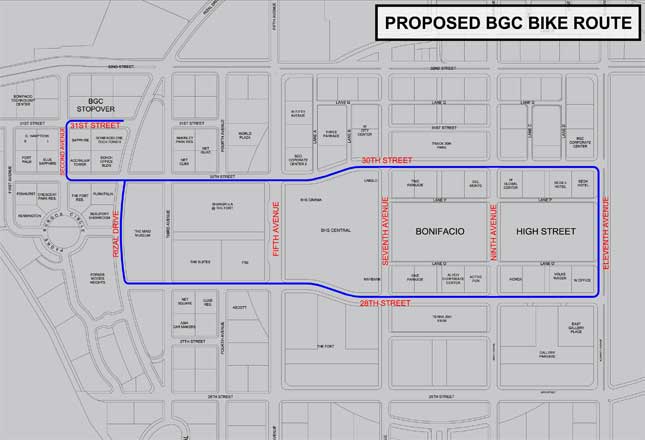 This news will please bicycle riders. On Sunday, June 12, Fort Bonifacio Development Corporation, the developer of Bonifacio Global City, is dedicating a special route to bicycles to test the district's bike lanes. If you regularly frequent BGC--whether as a resident, worker or visitor--you should know that the property strives to be as bicycle-friendly as it possibly could, in spite of the ever-increasing volume of cars that pass through the territory.
On Sunday, the highlighted route in the image above will feature a single lane closed exclusively for bicycles from 6am to 6pm. So if you're an avid cyclist and you like visiting BGC, this is the perfect time to bring your two-wheeled ride. The route covers the following streets:
* 2nd Avenue
* 11th Avenue
* 28th Street
* 30th Street
* 31st Street
* Rizal Drive
Several bicycle clubs have signified their intent to join this activity, including National Bike Org, Bike Saves PH, United Folding Bikers, Pinoy MTB, San Juan Bikers, Mini Velo Club Philippines, Bike To Work Pilipinas, and Quezon City Bike Org. Even alumni of the UP College of Human Kinetics are said to be participating.
Apart from the dedicated lane for bikes, the event will test the bicycle parking racks scattered throughout BGC, which is fast becoming known as a haven for cyclists. If you're a bicycle enthusiast and are passionate about this environment-friendly means of transportation, we encourage you to support this event. See you there on Sunday.
Continue reading below ↓
Recommended Videos