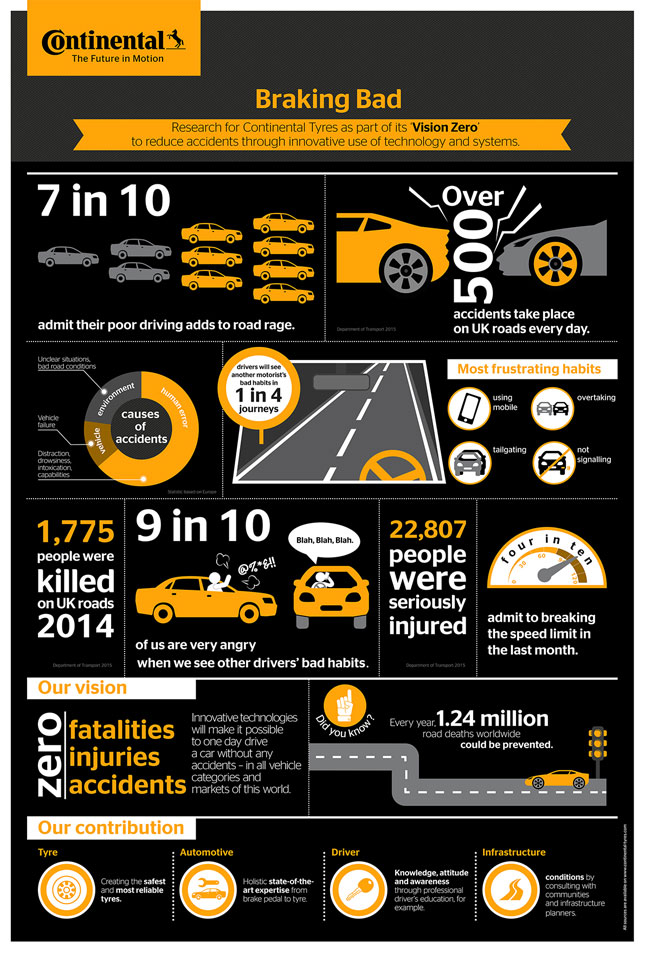 Based on research conducted by tiremaker Continental, driver error remains the biggest cause of accidents. In the study, seven out of 10 Brits confessed that their poor driving contributes to road rage, and this often leads to mistakes behind the wheel.
This research was commissioned as part of Continental's commitment to "Vision Zero," a goal to reduce accidents through tire technology and automotive research.
Of the 2,000 respondents in the study, three-quarters admitted that poor driving skills are a major safety concern. What's fascinating is that when seen in others, bad driving is also the respondents' greatest irritation behind the wheel. UK's Department of Transport reported more than 500 accidents every day resulting in an injury or fatality.
But as technology gets better, Continental hopes advances in safety systems will be a major solution to address the human factor in driving.
Continental safety spokesman Mark Griffiths said: "Driving is a complex task that requires attention and concentration. When we fail to do that, it creates problems for ourselves and other road users. That ranges from a heated exchange with other road users to something more serious. We and other automotive businesses have engineers delivering new technologies to improve road safety."
Continue reading below ↓
Recommended Videos
This makes us wonder: How will Filipinos react to a similar study? Will we be as open to admitting our faults?
What we do know is this: If we all practice a high level of care, caution and safety while driving, no one will need to place blame if something untoward happens.