Take note, parents: The full implementation of Republic Act No. 11229, or the Child Safety in Motor Vehicles Act, begins tomorrow, February 2, 2021, meaning children aged 12 and below must be properly secured in appropriate car seats while traveling in a private motor vehicle.
Schedule for the Child Safety in Motor Vehicles Act
The Land Transportation Office (LTO), however, will not begin apprehending and ticketing violators until three to six months from now. "Enforcement is not only about apprehension—it also covers information dissemination as well as warnings," said Roberto Valera, the LTO's deputy director for law enforcement, during a virtual briefing on January 29. "Instead of issuing a TOP (temporary operator's permit) or a show cause order, we'll be in warning mode as well as information dissemination."
Under RA 11229, which was signed into law in 2019, the mandatory use of child restraint systems (CRS) applies to children who are 12 years and below with a height of 4'11" and below. The CRS used must be appropriate to a child's age, height, and weight, and must be mounted in a rear seat of the vehicle.
ADVERTISEMENT - CONTINUE READING BELOW ↓
Seat type, age, and size table for child car seats in the Philippines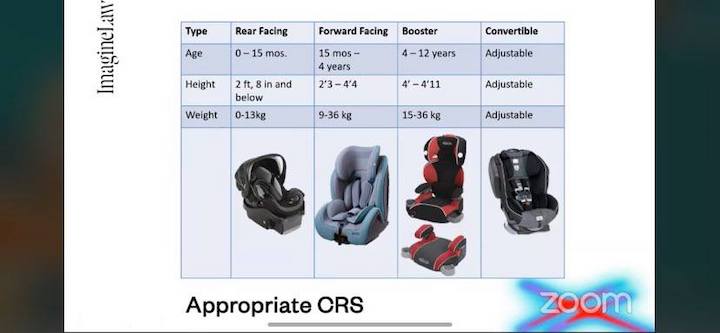 In addition, the CRS must meet the standards set by the Department of Trade and Industry (DTI), as specified in DTI Department Administrative Order No. 20-03. It follows the CRS standards under United Nations Regulations 44 and 129, as well as evolving and other international standards. The DTI will also eventually publish a list of brands that meet the requirements of RA 11229, and which have already been granted a Philippine Standards mark or an Import Clearance Certificate.
ADVERTISEMENT - CONTINUE READING BELOW ↓
Recommended Videos
Those who had acquired own child seats prior to the full implementation of the law may choose to have their units inspected by the LTO. "The LTO will be certifying [those inspected by the agency]," Valera said. "We'll come up with a certificate that the car seat has been inspected and even though it was purchased prior to the effectivity of the law, it passes our inspection department so it will be allowed to be used."
Fines and penalties under the Child Safety in Motor Vehicles Act
Fines for motorists' violations of RA 11229 start at P1,000 for the first offense and P2,000 for the second offense (or P3,000 for the use of inappropriate CRS). The strictest penalty for third and succeeding offenses imposes a P5,000 fine and a one-year suspension of driver's license. Aside from failing to secure a child properly in an appropriate car seat, other prohibited acts under the law include allowing a child to sit in the front seat of a vehicle, leaving a child unattended in a motor vehicle, and the use of substandard or expired child seats.
ADVERTISEMENT - CONTINUE READING BELOW ↓
Manufacturers, distributors, importers, retailers, and sellers of CRS, meanwhile, shall be fined P50,000 to P100,000 for RA 11229 violations like the production, distribution, importation, and sale of substandard or expired CRS, and any tampering or forgery of certification stickers.
The mandatory use of CRS under RA 11229 applies to covered motor vehicles. "If we look at the definition of terms, covered vehicles so far are private motor vehicles, so these are the cars that are privately owned or those also being rented under a lease," said Atty. Daphne Marcelo, policy associate for road safety at public-interest law firm Imagine Law.
She added: "Also under the law, the Department of Transportation is mandated to study the use and feasibility of using child car seats in PUVs. If they find that they should recommend this...then the DOTr can make that recommendation to Congress."