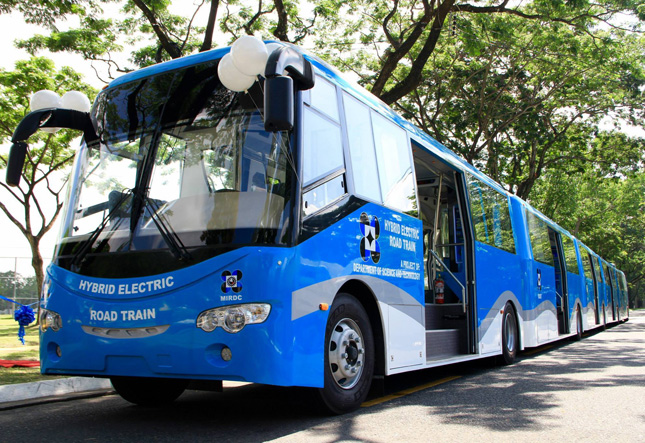 A large part of the worsening traffic situation in Metro Manila is the bad state of our public transport system. Without efficient and dependable mass transportation, people are left to acquire personal vehicles--whether cars or motorcycles--just to get around. Elevated railway systems obviously haven't been as reliable as we hoped them to be.
Enter the Department of Science and Technology's Hybrid Road Train, described by the agency as "the newest developed technology on public transportation." This thing is basically an interlinked bus system that has a claimed capacity of 240 passengers. It runs on hybrid propulsion consisting of a diesel engine and an electric motor. According to DOST, this road train can run at a top speed of 50kph.
"The Hybrid Road Train is DOST's answer to the mass-transportation woes that hound Metro Manila today," says DOST's Joy Lazcano, who sent us these photos.
Interesting, isn't it? If you're curious and want to see the Hybrid Road Train up close, DOST will hold a public demo ride at the SM Mall of Asia grounds on July 24-28 during the 2015 National Science and Technology Week celebration.
ADVERTISEMENT - CONTINUE READING BELOW ↓
Check it out if you have the time. Who knows? This could be your regular ride in the coming months.
Photos from Joy Lazcano