One by one, we're beginning to see big-ticket infrastructure projects—particularly major expressways such as the Skyway Stage 3—completed. All these are aimed at reducing travel time to, from, or around the metro as well as improving traffic in the nearby areas.
But if you look at the bigger picture, all these expressway projects are also part of the government's goal to connect the northern and southern parts of Luzon via a massive road network the Luzon Spine Expressway Network (LSEN). Through the LSEN Program, the Department of Public Works and Highways (DPWH) eyes cutting travel time from Ilocos to Bicol to just nine hours. It's hard to imagine, we know.
Some of the main roads of the LSEN are, of course, the existing thoroughfares we know of such as the South Luzon Expressway (SLEX), the North Luzon Expressway (NLEX), Skyway Stages 1 to 3, the Subic-Clark-Tarlac Expressway (SCTEX), and the Tarlac-Pangasinan-La Union Expressway (TPLEX).
In a recent online meeting with DPWH secretary Mark Villar, he shared with us a few updates on the other major roads under the LSEN that are set to be completed soon. One of the biggest roads is the SLEX extension also known as TR4. Construction started way back in March 2019, and now the DPWH says that Package B is at 2.58% accomplishment and Package C is at 30.61%. The agency also shared that the right-of-way acquisition for SLEX-TR4 is still also ongoing.
Continue reading below ↓
Recommended Videos
SLEX-TR4 will then connect to SLEX-TR5, a 416.48-kilometer, four-lane toll road with eight segments in total. The road starts in Lucena City in Quezon and stretches all the way to Matnog in Sorsogon. Construction for this one is still yet to commence.
The southernmost road that will be part of this whole network is the Camarines Sur Expressway, a 15.21 kilometer, four-lane road that will connect the municipalities of San Fernando and Pili. It is currently 15% complete, and the DPWH estimates the project to finish beyond 2022.
Other expressways—both completed and still under construction—that don't directly connect the metro to the southern provinces are also considered part of the LSEN, including the soon-to-rise Central Luzon Link Expressway (CLLEX), the NAIA Expressway, Manila-Cavite Expressway, the Cavite-Laguna Expressway, the Muntinlupa-Cavite Expressway, and the Cavite-Tagaytay-Batangas Expressway.
Unfortunately, we weren't given a rough estimate of the current progress of the entire LSEN Program, so we have no overall percentages to show you. Anyway, for a better view of the entire expressway network, you can check out the photo below: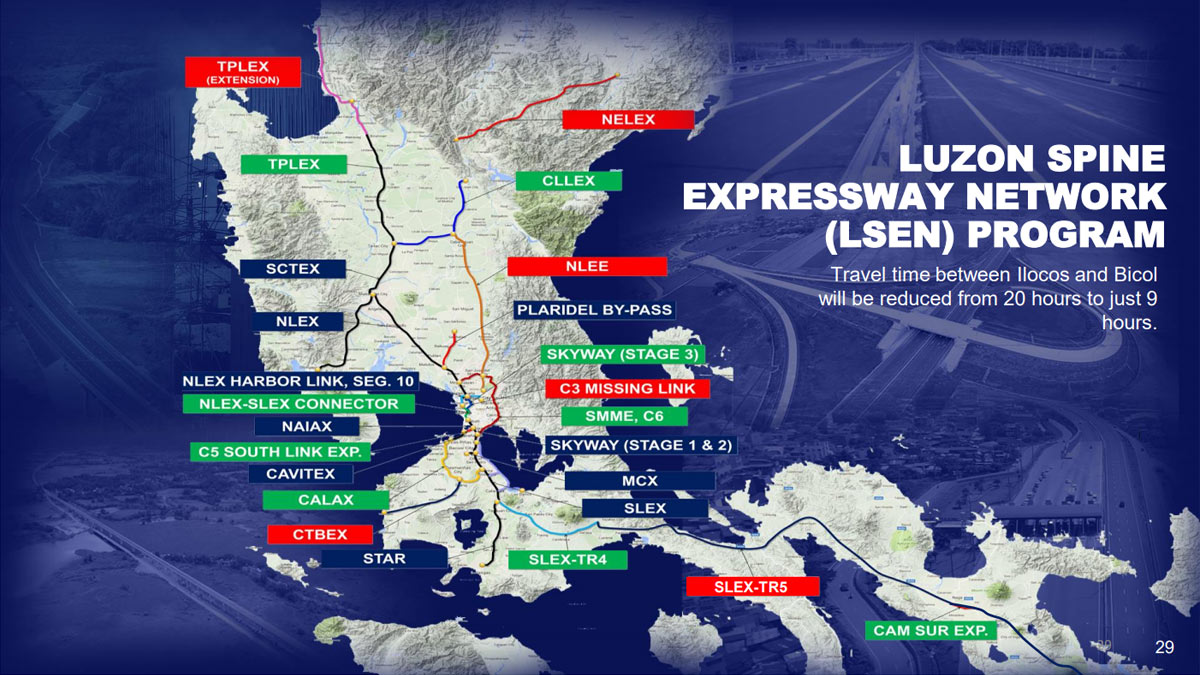 Frankly, it looks like there's still a long, long way to go before we finally see all these expressways completed. Nonetheless, it's definitely something to look forward to in the future. Do you concur?