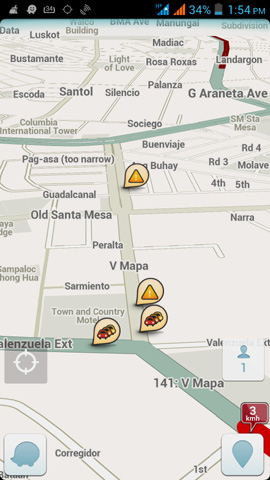 The Metropolitan Manila Development Authority created its own applications to share traffic and road accident updates through its Traffic Navigator and Accident Alerts apps. The Department of Public Works and Highways is taking a different--and probably more cost-effective--path in announcing its roadworks and other related projects in Metro Manila, and that's by tapping one of the most popular GPS navigation apps in existence today.
Through the Waze application, the DPWH will release information on "planned and ongoing road repairs to help motorists and commuters" with the assistance of the app's local community.
According to the agency, information on scheduled DPWH works that will require either a partial or total road closure will be provided to the Philippine Waze Champs or senior editors for incorporation into the Waze app. The affected roads will supposedly be marked as either "DPWH RD WORKS" or "CLOSED" as the app "automatically suggests possible alternative routes."
"We are extremely excited to partner with the local Waze community to help motorists and commuters plan their trip whenever the DPWH has ongoing road repair and maintenance works initially in the National Capital Region," said department secretary Rogelio Singson.
Singson added that the Waze app and the DPWH's nationwide road advisories will also be useful during calamities.
Continue reading below ↓
Recommended Videos