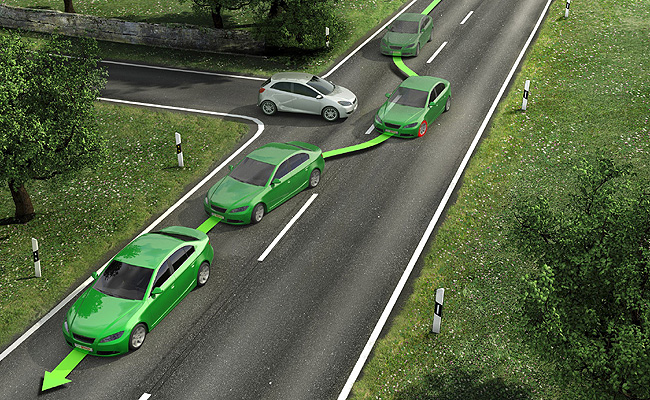 Effective November 1, 2014, the electronic stability program is mandatory for all newly registered passenger cars and light commercial vehicles of up to 3.5 tons in the European Union. For all other vehicles, the regulation will take effect a year later.
The resolution to make the safety system mandatory was passed by the European Parliament in March 2009 after various international studies had shown that vehicles equipped with such a system were less likely to be involved in crashes than those without it.
"ESP can prevent up to 80% of all skid-related accidents," said Werner Struth, who was then the president of the chassis systems control division at Bosch as he summarized the results of the studies. Struth is now a board member for Robert Bosch GmbH for the North and South American markets. "After the seatbelt, the system is therefore the most important safety technology in the car."
Bosch developed the electronic stability program. In 1995, it was the first company in the world to put it into series production. To date, Bosch has manufactured 100 million ESP systems, while the system itself has supposedly prevented 190,000 accidents and saved more than 6,000 lives across Europe.
However, while 84% of all new vehicles in the region are equipped with ESP in 2014, the figure for all new vehicles worldwide is only 59%.
Continue reading below ↓
Recommended Videos
"ESP saves lives," added Gerhard Steiger, the current president of the Bosch chassis systems control division. "ESP is an unparalleled success story that we hope to replicate outside Europe as well."
Countries around the world have also recognized that ESP is extremely important for road safety. Since September 2011, the system has been mandated for all vehicles in the United States and Canada with a gross vehicle weight of up to 4.5 metric tons. Australia and Israel have also made ESP mandatory, while similar regulations will reportedly take effect in Japan, Korea, Russia and Turkey in the coming years.
We can only wonder when our government will make ESP mandatory in all locally sold vehicles. As it is, we're only going up to Euro IV emission standard in 2016--or 11 years after it took effect in Europe in January 2005.