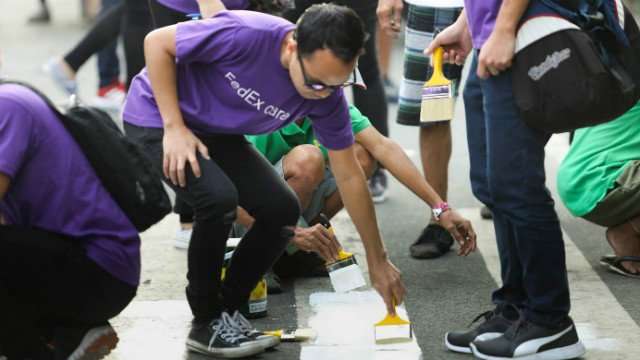 What's the best way to educate people about road and pedestrian safety? If you ask us, the easiest and most effective method is to start young. Knowing your rights on the road is an essential life skill, and one that should be taught to everyone from an early age. After all, statistics show that over 23 million Filipino kids walk to and from school each day. Global delivery courier company FedEx, who has just launched a new program with Safe Kids Worldwide Philippines (SKWP), seems to agree with our sentiment.
FedEx and SKWP recently launched EducPaint, a program that promotes road user safety education. The initiative also advocates improvements to walking environments like pedestrian lanes and the installation of road signs in public schools.
Continue reading below ↓
Recommended Videos
Last February, FedEx ran the EducPaint pilot at San Dionisio Elementary School, Parañaque Elementary School-Central, and Parañaque School Unit II. To further educate about pedestrian safety, FedEx volunteers and senior Young Road Safety Advocate members held road safety lectures for the local community. In attendance were parents, public utility vehicle drivers, and barangay enforcers.
Programs like these are a step in the right direction, and we hope to see more of them pop up around the country. Great job, FedEx and SKWP!