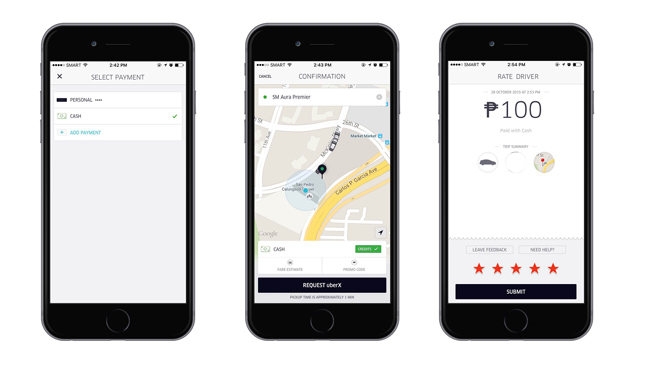 Uber opened up an entirely new world of options upon its arrival in the Philippines. But one option it did lack was the convenience of paying with cash straight up--a deal-breaker for anyone who hasn't signed up for a credit card. And so cardless individuals continue to try their luck with regular cabs or other TNC services whose drivers have the option to ignore them if they don't pledge a handsome tip. All that is about to change.
Uber has announced it will begin to introduce cash as an alternative payment option for a number of Uber rides in Manila starting today, adding that the cash option will be rolled out gradually to all riders over the next few weeks.
Here's how it works:
Step 1 - Open the app and go to the menu. On the top left corner, select the payment tab.
Step 2 - Select "cash" as your payment option (again, not all Uber vehicles will have this option just yet).
Step 3 - Request for a ride.
Step 4 - Confirm your pickup location and payment method.
Step 5 - Before you get out, pay the amount shown in the app.
So there you have it. No more cards. No more wireless transfers. Just good old-fashioned paper. An early gift from the guys at Uber just in time for the holiday shopping season.
Continue reading below ↓
Recommended Videos